Competition with Medicare Plans and Foreign Sourcing Keeping Canadian Prices Low
WESTCHESTER COUNTY, NY — MAY 24, 2006 —Prices at U.S. online pharmacies increased by an average 7% over the past year while prices decreased by 2% among Canadian and non-US online pharmacies, according to an analysis by PharmacyChecker.com. These changes further widened the gap between prices from US and non-US online pharmacies, leaving non-US prices 40% lower on average. PharmacyChecker.com compared prices of ten top-selling brand name drugs from the first quarters of 2005 and 2006.
Price increases by manufacturers were largely responsible for raising US online pharmacy prices. The slight decrease in non-US prices may be attributable to fierce competition among Canadian online pharmacies who have lost many customers to Medicare Part D drug plans and who are increasingly filling orders through other countries with lower prices.
In the first quarter of 2005, a search on PharmacyChecker.com for the popular cholesterol-lowering drug Lipitor (Pfizer), (90 20mg tablets), yielded an average price of $202.94 among non-US online pharmacies. A year later, the same search yielded an average price of $188.15, a decrease of 7%. The average US online price went from $295.67 to $319.15, an 8% increase. During the first quarter of this year, the maximum savings available online (the highest U.S. price vs. the lowest non-U.S. price) for Lipitor was 63% and the average savings was 41%.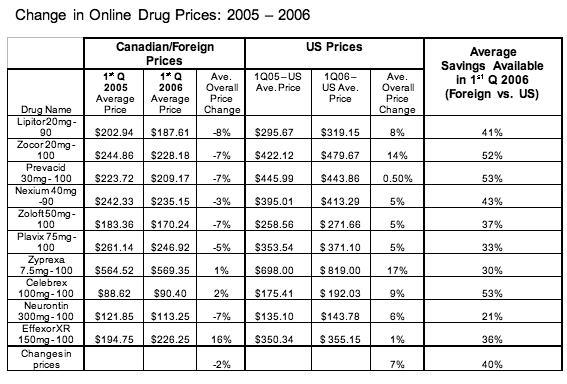 "The opportunity for savings with online pharmacies remains great and the number of people who can potentially benefit remains large," explained Gabriel Levitt, Vice President for research of PharmacyChecker.com. He indicated that individuals within following groups could save money using online pharmacies:
Approximately 61 million non-elderly Americans without a drug benefit, consisting of 47 million with no health insurance and 14 million with health insurance without a drug benefit.
Approximately 7 million seniors who may seek price relief as they fall into the no-coverage gap that they don't expect exit during a calendar year.
Approximately 7 million seniors still without a drug plan.
Tens of millions of Americans with traditional or Medicare drug plans that refuse to cover specific, expensive brand-name medications.
PharmacyChecker.com is privately held and has no ownership in or from companies that sell or distribute pharmacy products. Visitors to https://www.pharmacychecker.com/ can freely access drug prices as well as pharmacy ratings, customer comments, and in-depth profiles of online and low-cost pharmacies. PharmacyChecker.com's Guide to Low-Cost Canadian and U.S. Pharmacies is available as a paperback and can be ordered from 800-431-1579. The company also operates www.MedicareDrugPlans.com where seniors can compare, rate, and review Medicare Part D prescription drug plans.