Success of Drug Plans will Hinge on Convenience and Discounts Beyond Standard Plan
WESTCHESTER COUNTY, NY — THURSDAY, SEPTEMBER 29, 2005 —PharmacyChecker.com released new research comparing the savings potential of buying drugs from low-cost online pharmacies from Canada and other countries or choosing a Medicare drug plan. PharmacyChecker.com calculated that drug costs would have to exceed $8,000 for an individual to save more with the standard Medicare drug plan. Such an unusually high level of drug spending would require, for example, chronic use of about seven or more high-priced drugs.
Based on the drug prices posted on www.pharmacychecker.com, savings from international pharmacies generally range from 40% to 50%. In a standard Medicare drug plan, savings over 40% do not occur until spending exceeds about $1,500 and then quickly diminish as spending surpasses about $2,500 (see chart). In fact, at $5,000 in drug costs, overall savings fall to only 22%. Due to the "doughnut hole" in the Medicare formula, savings do not rise to 40% again until spending exceeds $6,785 and do not reach 50% until drug costs are about $8,250.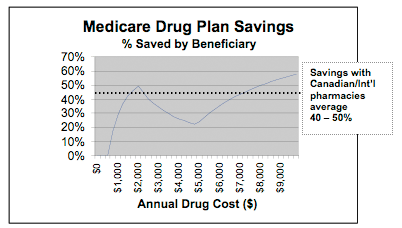 Sources: PharmacyChecker.com analysis of prices on www.pharmacychecker.com and of values generated with Kaiser Family Foundation's Medicare Drug Benefit Calculator (http://www.kff.org/medicare/rxdrugscalculator.cfm)
PharmacyChecker.com showed that a senior buying Pfizer's Lipitor (for high-cholesterol), Pfizer's Zoloft (for depression), Astra Zeneca's Nexium (for GERD), and Merck's Fosamax (for osteoporosis), would be paying 79% more through a Medicare drug plan than through licensed pharmacies in Canada or abroad (see table).
Comparison of Annual Cost for Four Popular Drugs
U.S. Retail Pharmacy
Standard Medicare Drug Plan
Lowest Canadian/Int'l Pharmacy Prices on PharmacyChecker.com
Lipitor (20mg)
Zoloft (50mg)
Fosamax (70mg)
Nexium (40mg)
$ 5,147.33
$ 3,988.77
(22.5% savings off retail) (79% more than Canadian/Int'l price)
$ 2,233.27
(56 % saving off retail)
Sources: CVS.com (retail cost), Kaiser Family Foundation (Medicare cost),PharmacyChecker.com (Canadian/Int'l cost).
According to Tod Cooperman, M.D., President of PharmacyChecker.com "A senior can easily exceed the savings of the standard Medicare drug plan by buying from Canadian or other licensed international pharmacies. The greatest beneficiaries of the Medicare program are people taking an enormous number of drugs — or worried about that possibility. Yet even the 95% coverage for costs over $5,100 yields overall savings under 60% until drug costs surpass $11,000. The success of these plans will clearly hinge on their convenience and ability to go beyond the basic, mandated savings."
In October, PharmacyChecker.com launches a new website that will help consumers evaluate and compare Medicare drug plans. "We encourage seniors to let us know how they're doing with their new drug plans by going to the public forums at MedicareDrugPlans.com," added Dr. Cooperman.
PharmacyChecker.com is privately held and based in Westchester County, New York. It has no ownership in or from companies that sell or distribute pharmacy products.
Reports can be ordered by contacting Gabriel Levitt, Vice President for Research, at gabriel.levitt@pharmacychecker.com, or 718-387-4526. PharmacyChecker.com's Guide to Low-Cost Canadian and U.S. Pharmacies is available as a paperback and can be ordered from 800-431-1579.