White Plains, New York – September 7th, 2022 – For its most recent drug price report, PharmacyChecker investigated which drugs are likely to be eligible for negotiated pricing under the Inflation Reduction Act in 2026 based on analysis of the top 20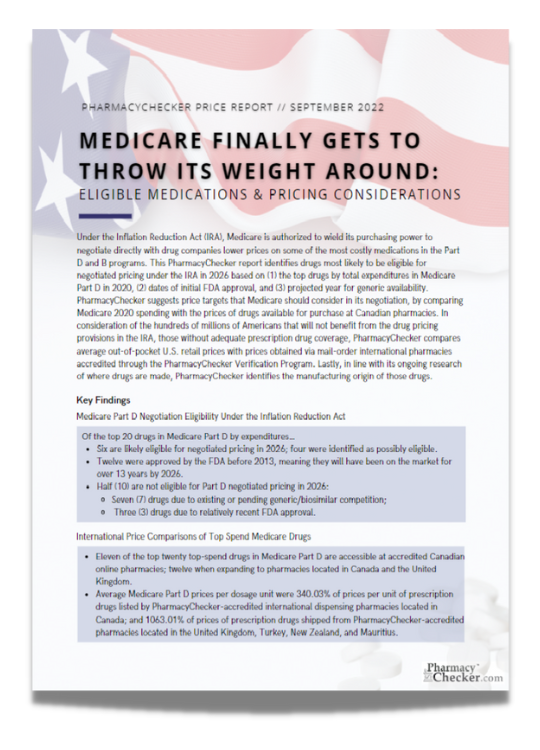 drugs by total expenditures in Medicare Part D in 2020, dates of FDA approval, and projected year for generic availability. The report suggests Canadian pharmacy prices as a reasonable benchmark for the U.S. Medicare negotiated price.
The analysis includes price comparisons of Medicare's current per unit drug prices and prices available for purchase by individuals from Canadian and other international mail-order pharmacies accredited through the PharmacyChecker Verification Program.
The topline data is that Medicare Part D prices are 340.03% of prescription drug prices at PharmacyChecker-accredited pharmacies in Canada; and 1063.01% of prescription drug prices available at PharmacyChecker-accredited pharmacies located in the United Kingdom, Turkey, New Zealand, and Mauritius.
PharmacyChecker found that 10 drugs, half of the medications, are not eligible for Part D negotiated pricing in 2026: Seven drugs due to existing or pending generic/biosimilar competition; three drugs due to relatively recent FDA approval.
The popular blood pressure drug, Eliquis (apixaban), is among the drugs most likely to be eligible for negotiation in 2024, with the negotiated price finalized in 2026. Eliquis checks all the boxes for eligibility under the IRA:
Eliquis is the drug on which Medicare spent the most – $9.9 billion – in the year 2020. The IRA requires negotiation for only the highest-spend drugs in Part D.

Eliquis is not expected to have generic competition until 2028.

The IRA requires negotiation for only single-source medications.

Eliquis will have been on the market for 13 years by 2026. The IRA requires at least nine years on the market for small molecule drugs.
The PharmacyChecker report found that the Canadian mail-order price of Eliquis is $2.11 per pill compared to the average Medicare price of $7.90 per pill -- almost four times the Canadian price.
Comparison of Canadian Pharmacy Prices and Medicare Part D Prices

Brand Name
Generic Name
Canadian Mail Order Price per unit
Medicare Price per dosage unit
Canadian Savings
Eliquis
Apixaban
$2.11
$7.90
73.28%
Xarelto
Rivaroxaban
$3.54
$15.45
77.09%
Januvia
Sitagliptin Phosphate
$4.14
$15.81
73.81%
Jardiance
Empagliflozin
$3.33
$17.44
80.91%
Ibrance
Palbociclib
$286.19
$613.20
53.33%
Symbicort
Budesonide/Formoterol Fumarate
$13.11
$35.18
62.73%
Xtandi
Enzalutamide
$32.42
$101.49
68.06%
Biktarvy
Bictegrav/Emtricit/Tenofov Ala
$44.44
$111.16
60.02%
Myrbetriq
Mirabegron
$2.00
$13.63
85.33%
Breo Ellipta
Fluticasone/Vilanterol
$4.17
$6.13
32.03%
Trelegy Ellipta
Fluticasone/Umeclidin/Vilanter
$6.50
$9.72
33.16%
PharmacyChecker Research September 2022. Drug prices are per unit. Drugs are among the top 20 single-source medications by total expenditures in Medicare Part D in 2020 as published by the U.S. Centers for Medicare & Medicaid Services that have mail order availability through PharmacyChecker-accredited online pharmacies that are located in Canada. Canadian Pharmacy Prices as listed on PharmacyChecker.com by PharmacyChecker-accredited Canadian online pharmacies. Medicare Part D prices are average Medicare prices per dosage unit as published by the U.S. Centers for Medicare & Medicaid Services.
"We're excited to help identify those drugs on which Medicare will finally declare 'enough is enough' of paying twice the amount that people in Canada pay," said Gabriel Levitt, president and co-founder of PharmacyChecker. "Of course Americans who buy medication from Canada outside of their insurance already obtain these lower prices. Because of the Inflation Reduction Act, within a few short years, fewer older Americans will do so."
"Because these prices will only benefit those enrolled in Medicare, four years from now, it's still critical to highlight personal prescription drug importation as an option for the uninsured and underinsured," said Lucia Mueller, vice president of operations and communications at PharmacyChecker. "Medication adherence hinges on affordability, and our verification work helps ensure patients' safety when taking advantage of lower prices offered by properly vetted international online pharmacies."
The potential out-of-pocket savings for Eliquis through online pharmacies, as opposed to U.S. retail prices, is 94.98%. Should a consumer use an online pharmacy limited to Canadian drug prices, Eliquis is still 79.62% lower than those at a CVS or a Walgreens, for example.
The report also identifies countries of manufacture, finding that drug companies manufacture 70% of the drugs in foreign countries which are then imported to be sold to the American people at a premium.
Overall, the PharmacyChecker report showed average U.S. retail pharmacy prices were four times higher than the price of prescription drugs available from PharmacyChecker-accredited dispensing pharmacies located in Canada. Expanding the comparison beyond Canada – to PharmacyChecker-accredited pharmacies located in the United Kingdom, Turkey, New Zealand, and Mauritius – U.S. out-of-pocket retail prices were over twelve times higher (1276.25%) than international mail order.
About PharmacyChecker
PharmacyChecker, based in New York, is the only independent company that verifies the credentials of international mail-order pharmacies with U.S. pharmacy pricing, publishing a list of accredited online pharmacies and comparisons of their drug prices. For more information, visit www.pharmacychecker.com.
Press Contact: Lucia Mueller, Director of Communications lucia.mueller@pharmacychecker.com