Is there a generic available for Apoquel (oclacitinib)? How can dog owners save money on Apoquel?

Just like you, your canine friend may at some point develop allergies. The difference is that rather than your itchy eyes and runny noses, dogs' allergies, whether chronic or seasonal, usually manifest in the skin. Constant scratching and inflammation should lead to a veterinarian consultation on how best to tackle the problem. Trial and error, under the guidance of your vet, will eventually get your pup the perfect cocktail to ease their itching. One popular medication usually finds itself in the mix: Apoquel. Apoquel is highly effective when it comes to atopic dermatitis – pollen, dust, or mold allergies – and can truly boost your dog's quality of life. It blocks the release of inflammatory cytokines, the main culprit of all the uncomfortable itching. According to Dr. Melissa Eisenschenk, DVM, DACVD, "Apoquel works rapidly, (and) most pets see complete relief within two days." The caveat? Well, as always on these Ask PharmacyChecker posts, it's cost. Apoquel's price tag hovers around $2.50 per pill and, considering it's usually prescribed to be given daily, you're looking at around $900 a year for a chronic condition.
How to Cut Costs on Apoquel (oclacitinib)
Federal (USA) law restricts this drug only for use by or on the order of a licensed veterinarian; therefore, dog owners must purchase either at their vet's office or ask for a prescription in order to get to cost comparing.
So what is the cheapest way to get Apoquel?
First of all, Zoetis, the manufacturer, has set up a rewards program so pet owners can earn money to use for future vet visits every time they purchase Apoquel. They claim you can earn up to $80 on 250 tablets. Let's say Apoquel is $2.50 per pill, on average, in the United States. You'll end up spending $625, and get your $80 rewards, making it $545. That's a 13% savings. Learn more about Zoetis Petcare Rewards.
Both PetMeds and Chewy advertise Apoquel 5.4mg at $2.53 per tablet. If you use their AutoShip service, the price comes down to $2.40 per tablet.
PetsMart also advertises $2.53 per tablet with the AutoShip incentive, but throws another offer in the ring: if you sign in and spend over $50 (an easy feat in the case of Apoquel), you save an extra $10.
The cheapest price tag we found on Apoquel 5.4mg is at an accredited international online pharmacy in India: $1.71 per tablet, including shipping. That's a 32% savings off the average U.S. retail price. Although the savings isn't substantial, it can really add up when you're running a busy clinic or have a pup with chronic allergies. Bear in mind that delivery times for medication shipped from India isn't an Amazon Prime quick fix: it may take 3-5 weeks to receive your dog's pills. We suggest buying a month's supply locally while you wait for your order– then, time refills accordingly.
In the case of Apoquel 3.6mg, the savings may not be substantial enough to search for an international solution: 6%.
For Apoquel 16mg, don't go international! It's actually more expensive. Your best bet is probably Petsmart. Discuss other possible cost savings solutions with your vet specific to your pet's drug therapy. In severe allergy cases such as this, pet insurance can be a life saver!
Always compare costs before you buy. Drug prices fluctuate frequently.
Cost Comparison of Dog Allergy Medication Apoquel

Drug Name Strength (Quantity)
U.S. Discount Coupon Price (1-800-PetMeds)
Lowest International Pharmacy Price (shipping included)
Apoquel 3.6mg (100 tablets)
$253.00
$238.00
Apoquel 5.4mg (100 tablets)
$253.00
$170.78
Apoquel 16mg (100 tablets)
$253.00
$271.99
Prices updated October 2022
Back to Top
Can pet owners get Apoquel without a prescription?
Apoquel is not available over the counter. You cannot buy Apoquel without presenting a valid prescription from your vet.
Back to Top
Apoquel Dosing Guide For Dogs
Your Dog's Weight

Number of Tablets to be Administered per Dose

3.6 mg tablets

5.4 mg tablets

16 mg tablets

6.6 – 9.9 lbs
0.5
-
-
10 – 14.9 lbs
-
0.5
-
15 – 19.9 lbs
1
-
-
20 – 29.9 lbs
-
1
-
30 – 44.9 lbs
-
-
0.5
45 – 53.9 lbs
0.5
0.5
54 – 59.9 lbs
-
0.5
0.5
60 – 89.9 lbs
-
-
1
90 – 129.9 lbs
-
-
1.5
130 – 175.9 lbs
-
-
2
Back to Top
Where is Apoquel (oclacitinib) made?
Apoquel sold in the U.S. is manufactured in Italy and distributed by Zoetis Inc. (see packaging below). Because it is a relatively new drug with many protections in place for its distribution, it's highly likely the Apoquel you order from a pharmacy in the UK or India, etc., would be the same Apoquel you'd receive from your local vet.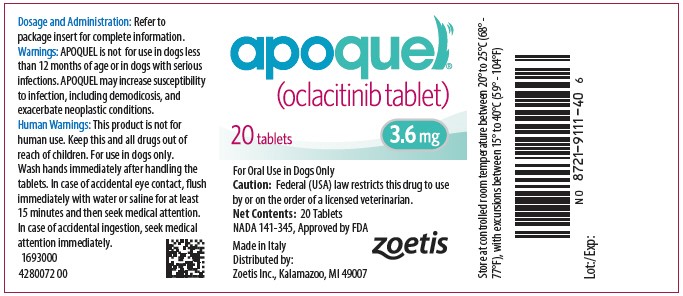 Back to Top
Dog Allergy Medication Alternatives to Apoquel (oclacitinib)
Although Apoquel is a commonly prescribed drug for the treatment of allergies in dogs, it's certainly not a pet owner's only option. Cytopoint is a very popular injection used to combat atopic dermatitis. Although drugs like Zyrtec and hydroxyzine are not FDA-approved for animals, some vets are prescribing the drug "off-label."
Also, talk to your vet about topical solutions for itching. Regular baths, flea medication, the right diet for your dog, allergy elimination therapy, and probiotics can also be considered under the guidance of your veterinarian.
Compare Apoquel Prices Today
Compare prices among U.S. discount coupons and accredited international online pharmacies
Back to Top
Compare drug prices among reputable online pharmacies