Is there a generic available for Apoquel (oclacitinib)? How can vets save money on Apoquel?

Apoquel (oclacitinib) is prescribed for the treatment and control of itching (canine pruritus) and inflammation in dogs that can come about for a number of reasons. Just like us, your dog may at some point develop certain allergies. Your pet may exhibit irritation from a flea, food, or contact allergy; or atopic dermatitis. Studies show that up to 10% of pups are affected by atopic dermatitis. Apoquel works by blocking the activity of certain proteins that cause your pet to be so uncomfortable.
Luckily, according to Dr. Melissa Eisenschenk, DVM, DACVD, "Apoquel works rapidly, (and) most pets see complete relief within two days."
Back in May 2013, the FDA approved Apoquel, "for the control of pruritus associated with allergic dermatitis and the control of atopic dermatitis in dogs at least 12 months of age." The generic name for Apoquel is its active ingredient, oclacitinib. As of October 2019, a generic version has still not been approved in the U.S. and is not available from accredited online pharmacies located abroad. So, if you were counting on a generic counterpart to ease financial burdens, you're out of luck. No need to fret, though! There are opportunities right here in the U.S. to curb your vet clinic medication spending.
How to Cut Costs on Apoquel (oclacitinib)
Federal (USA) law restricts this drug only for use by or on the order of a licensed veterinarian; therefore, dog owners cannot get Apoquel at their local pharmacy, rather at the office of their vet. It may surprise pet owners and vets to read this, but Apoquel may be purchased at lower cost in the U.S. than from in Canada or other countries.
Pet owners can earn money to use for future vet visits every time they purchase Apoquel.
Learn more about Zoetis Petcare Rewards
The lowest price for 100 tablets of Apoquel 16mg at accredited international online pharmacies is $228.99. This particular pharmacy would ship the medication from the United Kingdom at no additional cost. Veterinarians can get the same amount for $219 from 1-800-PetMeds in the U.S. Although the savings isn't substantial, it can really add up when you're running a busy clinic. Be sure to compare costs before you buy though! Apparently, the strength is a factor for savings. Apoquel is cheaper at international online pharmacies in the case of Apoquel, strengths 3.6mg and 5.4mg. See chart below.
Cost Comparison of Dog Allergy Medication Apoquel

Drug Name Strength (Quantity)
U.S. Discount Price (1-800-PetMeds)
Lowest International Pharmacy Price (shipping included)
Apoquel 3.6mg (100 tablets)
$179
$167.99
Apoquel 5.4mg (100 tablets)
$199
$171.99
Apoquel 16mg (100 tablets)
$219.00
$228.99
Where is Apoquel (oclacitinib) made?
Apoquel sold in the U.S. is manufactured in Italy and distributed by Zoetis Inc. (see packaging below).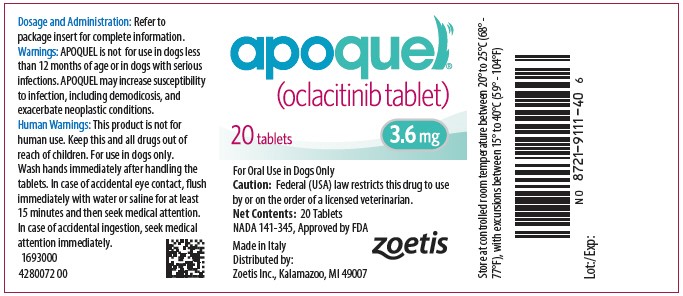 Dog Allergy Medication Alternatives to Apoquel (oclacitinib)
Although Apoquel is a commonly prescribed drug for the treatment of allergies in dogs, it's certainly not a pet owner's only option to help out their furry friend.
Although drugs like Zyrtec and hydroxyzine are not FDA-approved for animals, some vets are prescribing the drug "off-label."
Also, talk to your vet about topical solutions for itching. Regular baths, flea medication, the right diet for your dog, allergy elimination therapy, and probiotics can also be considered under the guidance of your veterinarian.
Compare Apoquel Prices Now
Compare prices among U.S. discount coupons and accredited international online pharmacies
Updated August 06, 2020
Compare drug prices among reputable online pharmacies