Can I order Enbrel from Canadian online pharmacies?

Enbrel (etanercept) is a medicine in which the main ingredient is a copy of a substance naturally produced in the body. It works by blocking a substance in your body to help regulate the immune system. It is used to treat arthritis and psoriasis.
Most prescription drugs can be ordered online and mailed to you, but not Enbrel. Currently, PharmacyChecker- accredited Canadian and international pharmacies only offer Enbrel for local pick-up, which would be in Canada. This is because Enbrel should be refrigerated at 36°F to 46°F (2°C to 8°C) and should not be shaken. Enbrel should also be stored in the original carton and protected from light or physical damage. Before ordering Enbrel, we recommend that you contact the pharmacist of your chosen online pharmacy directly. You can access a pharmacy's website by clicking on the pharmacy's logo. This will direct you to their website, which will provide instructions for how to contact the pharmacy.
Compare Enbrel Costs at U.S. Pharmacies
Enbrel can be purchased from U.S. pharmacies. You can compare local prices on PharmacyChecker.com.
If you prefer to shop for Enbrel at a U.S. pharmacy, just scroll to the bottom of each price page and enter your ZIP Code to find the discounts available in your area. When you choose a pharmacy, just click "Print Card for This Pharmacy" and you are all set to obtain your discount at the pharmacy of your choice.
Back to Top
Enbrel Patient Assistance
PharmacyChecker.com offers a search tool for patient assistance programs. Many pharmaceutical companies offer aid with the cost of medications through patient assistance programs.
Enbrel Patient Assistance Programs
Back to Top
Where is Enbrel made?
Enbrel 50 mg/ml sold in the United States is manufactured by Immunex Corporation in California and is marketed by Amgen Inc.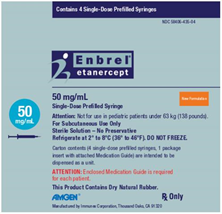 Compare Enbrel Prices Now
Compare prices among U.S. discount coupons and accredited international online pharmacies
Back to Top
Compare drug prices among reputable online pharmacies