8 Inconvenient Facts About Prescription Prices In the United States

Prescription drug prices are a symptom of a greater disease — greed and its effect on the U.S. healthcare system — but, oh, are they a nasty symptom. The drug pricing crisis is so frustrating because many of the high-priced medications U.S. residents currently cannot afford can be made for mere pennies. And, in most countries, you can get safe prescription drugs for that penny price. Drugs that should be $0.50 per pill are $250 in the U.S., all because patent laws, monopolies, and lack of regulation have made them a luxury. The Pharmaceutical Researchers and Manufacturers of America (PhRMA) sued the U.S. government to prevent Trump's most favored nations rule from going into effect. The same group sued Minnesota lawmakers for establishing the Alec Smith Insulin Affordability Act.
Today, residents cannot afford relatively simple medications like antibiotics. We are truly in the darkest timeline, as they say. Here are a few horrifying facts about the current state of drug prices in the U.S.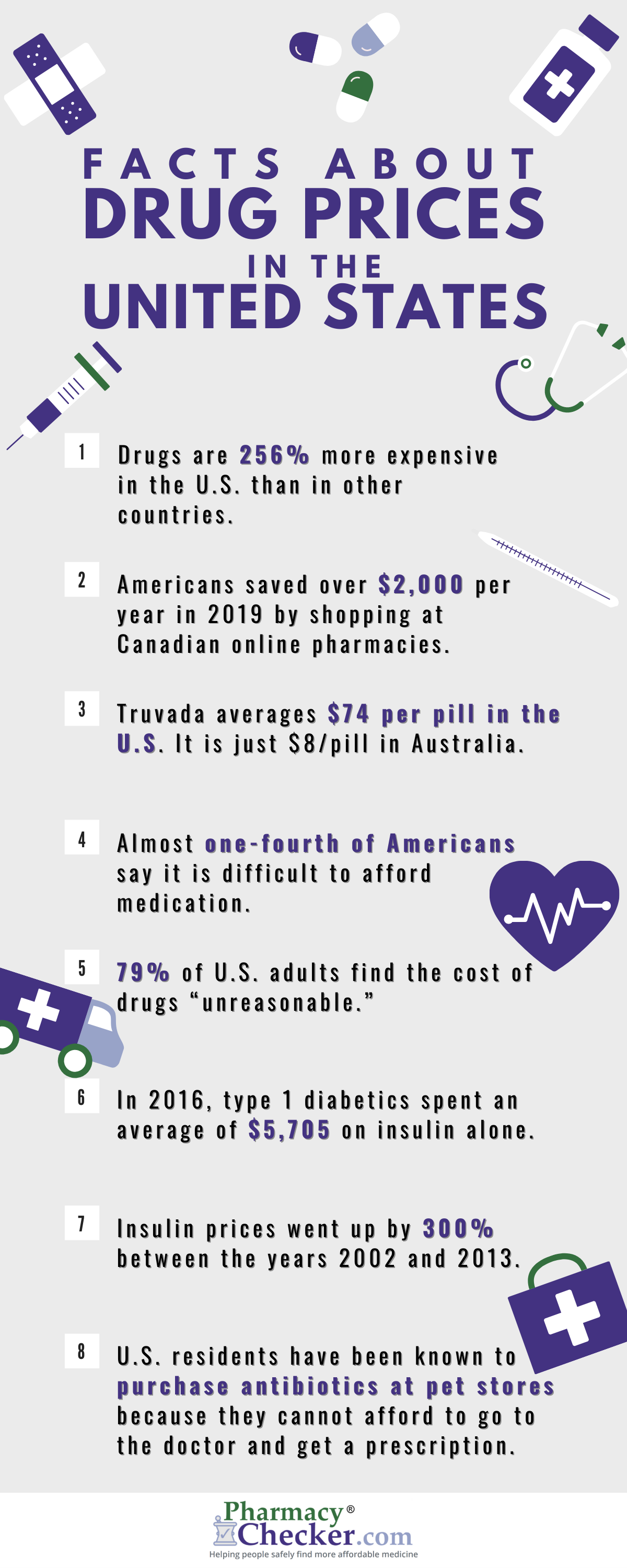 Back to Top
Back to Top
3. Truvada, a form of pre-exposure prophylaxis, averages $74 per pill. It is just $8 per pill in Australia.
At PharmacyChecker-accredited international pharmacies, it is $11 per pill.
Back to Top
Back to Top
Back to Top
6. In 2016, type 1 diabetics spent an average of $5,705 on insulin alone.
Back to Top
Back to Top
8. U.S. residents have been known to
purchase amoxicillin (an antibiotic) at pet stores
because they cannot afford to go to the doctor and get a prescription.
The parasite drug albendazole is over $200 per pill on average in the U.S. At PharmacyChecker-accredited pharmacies, it is $0.50. Reports have emerged of patients purchasing veterinary-grade albendazole instead of the traditional prescription drug to save costs.
We advocate for change.
There is a prescription drug price crisis in the United States.
Back to Top
Compare drug prices among reputable online pharmacies