What's the deal with Eli Lilly's half price insulin lispro?

In March 2019, Eli Lilly ("Lilly") announced that a lower-priced version of Humalog, called insulin lispro, would be coming soon to patients in the United States. Well, it's here! Apparently. Now what? It should be pretty straightforward: people with diabetes should now have the option to purchase insulin for 50% cheaper than the price of brand Humalog.
The commonly publicized list price of a single vial of insulin lispro is $137.35. The list price of a 5-pack of kwikpens is $265.20.
This Ask PharmacyChecker post was supposed to be about how you can get more affordable insulin. We wanted to give people clarity on Lilly's new generic Humalog. Unfortunately, it seems like it's a very difficult drug to obtain, not to mention the price ends up being dependent on which pharmacy you go to.
We called a CVS, Walgreens, Walmart, Hannaford, and Stop & Shop in Massachusetts. They all weren't currently stocking the generic. Cardinal Health, the company that supplies a CVS located in Brooklyn, NY with their medications, doesn't even give CVS the option to order generic insulin lispro. A Shoprite in White Plains, NY was also unable to order it. A Walmart in Texas and independent pharmacies in Harrison, NY and Greenwich, CT claimed they could order it if you provide a valid prescription. I hope that's the case.
In the United States, the average annual cost of insulin is around $5,705. This amount represents the average paid by the patient and their health plan for the medicine. It does not include any rebates received later on from the drug manufacturers.
At PharmacyChecker, we were very happy to hear about the new generic insulin. On the other hand, as noted, it's not widely available. Additionally, we support much stronger initiatives to bring down insulin prices and give people access to lower-cost insulin in Canada.
Ultimately, even with Eli Lilly's action, patients are struggling at the pharmacy counter and this medication will still be out of reach for many, especially those without insurance. We believe that's unacceptable and hope the information below helps you or your loved ones get some financial relief.
How do I save on Insulin Lispro or Humalog?
Insulin lispro is a rapid-acting form of insulin used for the treatment of hyperglycemia caused by type 1 and type 2 diabetes. Insulin lispro is available in vial and pen forms. For more information from the manufacturer regarding insulin lispro, patients can call the Lilly Diabetes Solution Center at (833) 808-1234.
Just one 10 ml vial of brand Humalog 100 ml is around $315 at a local U.S. pharmacy, such as Walgreens or CVS. Five kwikpens? Around $650 if you don't have insurance. These cash prices are very close to the actual list price of the drug company.
As stated, the list price of a single vial of insulin lispro is $137.35. The list price of a 5-pack of kwikpens is $265.20.
You may have heard that list prices are now going to be included in television ads. A list price is basically the initial price set by the drug manufacturer. People with good health insurance often pay a co-payment on a reduced, discounted price, meaning lower than the list price. That price is negotiated between the drug company and health insurer or the insurer's contracted pharmacy benefit manager (such as CVS Caremark, OptumRx, and Express Scripts). Uninsured and underinsured Americans too often suffer under the burden of high list prices. Discounted insulin lispro, using a savings card, might be the best option for those patients paying the full freight for Humalog.
Brand Humalog will remain available as well. Despite its far higher cash price at the pharmacy, health insurance plans will continue to cover brand-name Humalog due to pre-existing negotiated discounts with the manufacturer.
If you use the U.S. Prescription Discount Card, one 10 ml vial of Humalog 100 ml costs around $250. If you stick to the brand, that's a 21% discount.
If available at your pharmacy, insulin lispro runs around $155 a vial in conjunction with our discount card. Although still expensive, that's a 48% discount off the brand-name version. Insulin lispro kwikpens are currently around $63 per pen, a 50% discount off the Humalog brand kwikpen.
Back to Top
What is the difference between Admelog, Humalog and Insulin Lispro?
Admelog, manufactured by Sanofi, is a rapid-acting insulin for patients with diabetes. Admelog is termed a follow-on or a biosimilar to the common mealtime insulin, Humalog (insulin lispro). Admelog uses the same type of insulin as Eli Lilly's Humalog. According to the FDA, it also works the same and is just as safe and effective. So, what's the deal? They must be identical! Why don't they call Admelog a generic?
Biosimilar is the word used to describe a drug that is therapeutically equivalent to a biologic drug. A biologic drug is made from a living organism, whereas a regular drug is made from a chemical synthesis. Because of this difference, the FDA gave these follow-on drugs the word biosimilar instead of generic.
According to the FDA, a biosimilar is a biological product that is highly similar and has no clinically meaningful differences from an existing FDA-approved reference product – the brand. If you are wondering what "highly similar" means, basically the biosimilar must have a similar structure and function of both the reference product, which would be Humalog in our example. It's not exactly the same because the complexity of the manufacturing process results in minor differences, but if we're talking management of your diabetes, then, according to the FDA, they can be thought of as the same thing.
Both Admelog and Humalog are mealtime insulins containing insulin lispro.
Back to Top
Where are Insulin Lispro, Admelog, and Humalog manufactured?
Packaging shows insulin lispro, both vial and kwikpen, sold in the U.S. is manufactured by Eli Lilly in Indianapolis, Indiana. Humalog, manufactured by Eli Lilly, is also made in Indiana.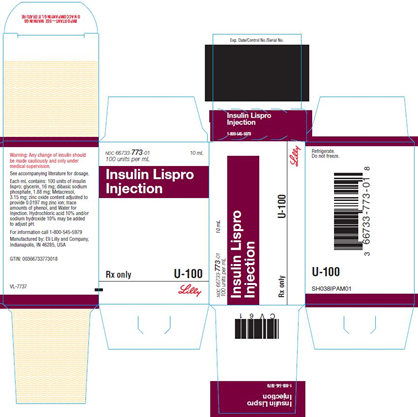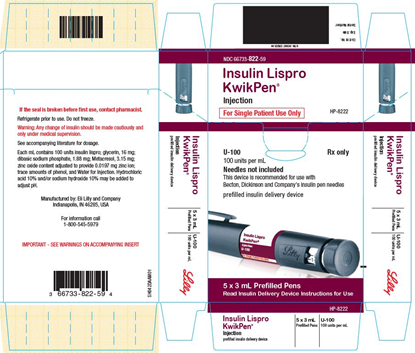 Packaging shows Admelog sold in the U.S. is manufactured by Sanofi in Germany.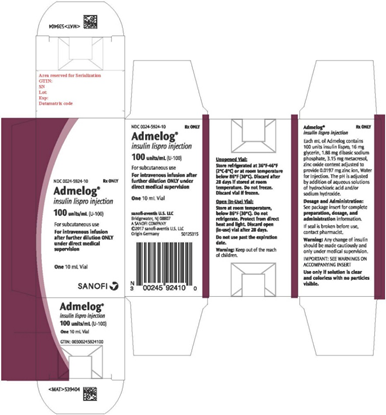 Back to Top
Advocating for Lower Insulin Prices
At PharmacyChecker, we advocate for Americans seeking lower prices for insulin at pharmacies in Canada and other countries.
Canadian pharmacies accredited in the PharmacyChecker Verification Program currently do not sell insulin online to U.S. patients. While Americans purchase lower-cost medicines from licensed pharmacies in other countries, due to federal regulations and pressure from the FDA, overnight mail couriers, such as UPS and FedEx, cannot be relied on to ship insulin – a drug that requires special shipping protocols. That prevents people from potentially getting insulin they can't afford here.
Our company is advocating for the FDA to expressly allow private mail carriers to overnight deliver Insulin from licensed Canadian pharmacies to people in the U.S. Allowing Canadian pharmacies to do so would enable them to meet PharmacyChecker's standard for shipping products, such as insulin.
For more information, please see this discussion of insulin and importation on PharmacyChecker Blog.
PharmacyChecker Verification Program Policies
We encourage those living with diabetes to get involved with T1international and the #insulin4all movement on Twitter. There is power in community and using your voice for change.
Back to Top
Read more on Ask PharmacyChecker and the PharmacyChecker Blog
What are the different types of insulin? Which work best?
How can I save money on my diabetes medication?
Buying Insulin in Canada Without a Prescription (BTC)
Do you have questions or concerns about getting discounts on your insulin online or traveling abroad to save on insulin? We're here to help.
Comment below or ask a question by logging in to My PharmacyChecker.
Back to Top
Compare drug prices among reputable online pharmacies