How much does an EpiPen cost? Is there a more affordable option?

Severe allergic reactions, such as anaphylactic shock, can kill. In these cases, EpiPens save these people's lives. This is precisely why their high cost can be a serious problem. But if you're prescribed EpiPen (epinephrine), don't let its high price leave your prescription unfilled at the pharmacy counter. If you're looking for affordable EpiPen (epinephrine) price options, the information below may help.
EpiPens are self-administered injectable pens that contain the lifesaving drug epinephrine. They can be very expensive, running almost $700-800 for a pack of two brand-name injectors. That's the bad news. The good news is that there are generic alternatives to EpiPen that can shave as much as two-thirds the cost and lower-cost brand EpiPens available internationally.
For many years, Mylan Pharmaceuticals dominated the epinephrine auto-injector market with the EpiPen, which is so ubiquitous that the brand name has nearly become synonymous with the drug itself (much like the brand-name Kleenex is used to describe tissues). In recent years, more competitors have entered the picture. Here are your options: Impax Pharmaceuticals makes an auto-injector called Adrenaclick, which is a budget-friendly alternative. Kaleo Pharmaceuticals makes AUVI-Q, a wallet-sized injector with audio instructions. As of 2018, Teva pharmaceuticals started manufacturing a generic EpiPen that costs the same amount as Mylan's recent generic version of the pen. Finally, the newest competitor is SYMJEPI, a pre-filled syringe that can be delivered directly to your home using PillPack.
Nearly every option has a minor setback, be it price, availability, or delivery system. Nevertheless, there are savings to be had – so don't go without your epinephrine!
Where can EpiPens be found for a more affordable price?
The most affordable way to purchase the auto-injector with cash is to turn to CVS's trusty two-pack of Adrenaclick. According to ConsumerReports, an additional $100 coupon from the drug's manufacturer should take this price down to a palatable $10. The Adrenaclick option's one setback is availability. A local pharmacy in New Orleans told PharmacyChecker that the Adrenaclick was not available at any CVS's in a 20-mile radius.
EpiPen (epinephrine) Prices at Your U.S. Pharmacy vs. Ordering From an Online Pharmacy

Drug (Quantity)
U.S. Average Retail Price
International Pharmacy Savings
EpiPen (two-pack, 0.3mg)
$669.82
$210.00
EpiPen Jr. (two pack, 0.15 mg)
$686.75
$267.48
Epinephrine Generic EpiPen (two pack, 0.3mg)
$396.41
$211.04
Prices collected December 2019
Without insurance, the name brand EpiPen is extremely expensive in the United States. Note that each package contains two auto-injectors. The average U.S. retail price of a two-pack of brand name EpiPens is $669.82. The generic is much cheaper but still expensive: $396.41. A single pack of brand-name EpiPen auto-injectors at a local Walgreens in New Orleans, Louisiana, for example, will cost $750 before tax and almost $800 after.
A single pack of generic EpiPens (epinephrine) at the same Walgreens will cost $376 before tax (and almost $400 after).
EpiPen Jr., a version of the pen to be used for patients under 66 lbs, is nearly the same price: One brand-name pack would be $735 before tax, and generic would be $375. Some health plans cover brand-name EpiPens; make sure to check with your insurer to see if you can obtain coverage.
The alternatives vary greatly in price. One such alternative is wildly expensive: AUVI-Q has an average retail price of $5,494.71.
SYMJEPI, one of the newer competitors, can be relatively cheap. Without a coupon, the two-pack may cost around $275, depending on your location. (Pharmacies in the Greater New Orleans area sell them for $275 a pop.) SYMJEPI's greatest benefit is that the website will allow you to calculate the full cost of the syringe before you place an order. If none of these options work for you, the answer may be to find savings for EpiPen itself. In 2016, Mylan, the drug's manufacturer, was widely criticized for increasing the price of the EpiPen from $100 in 2007 to $600. Mylan introduced a generic version of the pen following the controversial price hike. The generic costs $300 per two-pack, which is still more than twice the cost of Adrenaclick.
Like many big pharmaceutical companies, Mylan also offers discounts. EpiPen itself provides a "My EpiPen Savings Card" which takes up to $300 off the price of a two-pack for people with commercial insurance. Plus, with prescription drug insurance, EpiPens are far cheaper. If you have a life-threatening allergy, we suggest you look into more extensive drug coverage to ensure you get the auto-injector – and a trainer – covered.
Lastly, international online pharmacies can shave as much as $400 from the cost of two EpiPen injectors, shipping included. Notably, they do not carry Adrenaclick, AUVI-Q, or SYMJEPI.
As stated earlier, prices of auto-injectors are not the only problem. Many of these options have suffered shortages over the year.s. EpiPens and other epinephrine products. Adrenaclick, EpiPen, and EpiPen Jr. are still in short supply, although the alternatives (AUVI-Q, generic injectors from Teva pharmaceuticals, and SYMJEPI) should be available at most pharmacies.
Back to Top
What is an EpiPen (epinephrine)?
An EpiPen—also called an epinephrine auto-injector—is an injectable shot of epinephrine, a hormone that opens airways and prevents blood pressure from falling too low during an anaphylactic reaction. It is a small dose of adrenaline, which allows the body to survive long enough for the victim to get professional medical help. People with severe allergies often carry EpiPens on their person at all times, as do certain people diagnosed with hypotension. EpiPens are not a cure for allergic reactions! They simply buy a little time for the person suffering a severe reaction, and anyone who has recently used an EpiPen should seek immediate medical help.
EpiPen Jr. Is a version of the auto-injector to be used on patients under 66 pounds. The junior-sized injector has only 0.15 mg of the solution, while the adult-sized injector has 0.3mg of the solution.
Back to Top
How do you administer an EpiPen?
Make sure to ask your provider to demonstrate how to use the EpiPen. If you need a reference, EpiPen itself has a video tutorial, and here's one from Dr. Oz:
You should know that:
a) the EpiPen can go through clothing and
b) it must be injected into the outer thigh.
When you are prescribed an EpiPen, be sure to purchase a "trainer" injector, which you should use to practice injecting yourself or child. Some pharmacies may have a trainer injector that the pharmacist can use to counsel you on how to properly administer the EpiPen.
Back to Top
What is being done about the prices of EpiPens?
Many life-saving drugs have simply become too expensive, but as noted above EpiPens took center stage in the drug pricing debate. In 2016, Senator Chuck Grassley (R – IA) wrote to Mylan Pharmaceuticals asking about the prices of epinephrine auto-injectors. At the time, USA Today reported that the price of a single two-pack of the injectors had gone up 400% in less than ten years.
"The substantial price increase has caused significant concern among patients. I have heard from one father in Iowa who recently purchased a refill of his daughter's EpiPen prescription. He reported that to fill the prescription, he had to pay over $500 for one EpiPen," wrote Grassley. He added, "In the case of EpiPens, I am concerned that the substantial price increase could limit access to a much-needed medication. In addition, it could create an unsafe situation for patients as people, untrained in medical procedures, are incentivized to make their own kits from raw materials."
And it's not just about price. There is a nationwide shortage of EpiPens, which means the products are frequently on backorder. In 2018, the Food Allergy Research and Education advocacy group (FARE) called upon the FDA to investigate the steadily declining numbers of EpiPens. To help with the shortages, the FDA and the manufacturers announced that it would extend the expiration date of the pens.
EpiPen shortages are international — not just in the U.S.—so patients in all affected countries, including the U.S., Canada and the U.K., may have difficulty obtaining EpiPens. With accredited pharmacies located around the globe, comparing prices on PharmacyChecker.com could help you obtain an EpiPen, and potentially at a much lower cost.
Back to Top
Where are EpiPens and AUVI-Q manufactured?
Unlike many medications, EpiPens and EpiPen Jrs are sold in the U.S. are manufactured in the U.S.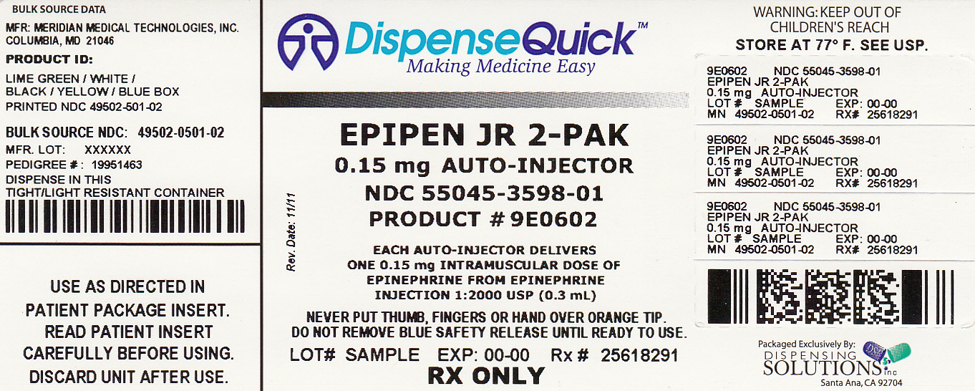 The Auvi-Q injector originated in Germany.

Back to Top
Learn more about EpiPens and affording medication
I'm in the Medicare donut hole. What now?
How can patients reduce prescription drug costs at the pharmacy counter?
Where do the 2020 Democratic presidential candidates stand on drug prices? A Healthcare Voter Guide
Do you have questions or concerns about EpiPen savings, whether locally or online? We're here to help.
Comment below or ask a question by logging in to My PharmacyChecker.
Back to Top
Compare drug prices among reputable online pharmacies