How can patients save money on Crestor?

Crestor (rosuvastatin) is a prescription medication that helps reduce levels of "bad" cholesterol (low-density lipoprotein, or LDL) and triglycerides in the blood, while increasing levels of "good" cholesterol (high-density lipoprotein, or HDL). Crestor should always be taken in conjunction with proper diet and exercise.
In the United States, the current average retail price of a 30-day supply of Crestor 10 mg is $184.48. Even with discounts and coupons available online, the price may still be out of reach for many, especially those without insurance.Crestor's generic (rosuvastatin) is now available in U.S. pharmacies and will likely be your best bet. You can buy a 30-day supply of rosuvastatin for about $13 with a prescription discount card.
For brand-name Crestor, you can find much lower prices internationally from a licensed pharmacy in Canada or other country. The lowest price found when comparing Crestor 10 mg prices among PharmacyChecker-verified international online pharmacies is currently $0.27/pill. That's a 96% savings on brand-name medication.
When comparing Crestor prices on PharmacyChecker.com, you can filter results be comparing "Price Per Pill" or "Total Price." To order your medication, you must click your chosen verified pharmacy's logo and order through their website. Online pharmacies in the PharmacyChecker Verification Program may dispense up to a 3-months' (90 day) supply pursuant to a valid prescription.
Compare Prices for Rosuvastatin
If you would rather stick to the brand-name and shop at your local U.S. pharmacy, discount cards are available for brand-name Crestor on PharmacyChecker.com. Scroll all the way to the bottom of a Crestor price page and click "Search U.S. Local Pharmacy Pricing." Enter your ZIP Code to find the discounts available in your area. If you find a great deal, just click "Print Card for This Pharmacy" and you are all set to obtain your discount at the pharmacy of your choice.
Crestor Patient Assistance Program
If you cannot afford an expensive medication, some pharmaceutical companies offer programs that cover all or part of the cost of their drugs.
Back to Top
Where is Crestor made?
Where a drug is made can be a complicated question to answer. In the case of the popular, brand-name Crestor, there are a few possible answers.Crestor 5 mg sold in the United States (see below) appears to be distributed by AstraZeneca Pharmaceuticals and manufactured by Corden Pharma GmbH. Corden Pharma manufactures the product in the United Kingdom. PharmacyChecker.com has also linked certain strengths of Crestor to manufacturing sites in Germany and Puerto Rico in the past.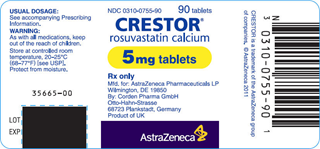 You may be interested in our blogpost: Generic Rosuvastatin or Brand Name Crestor? Which is cheaper online? Where is it made?
Back to Top
Compare drug prices among reputable online pharmacies