How can patients save money on Estrace (estradiol) cream?

Estrace (estradiol) cream is used to treat vaginal dryness, burning, itching, and painful urination. This vaginal cream works by providing the body with a natural hormone called estrogen.
Order Estrace from Verified Online Pharmacies
Estrace is available for sale in other countries and can be purchased from online pharmacies verified through the PharmacyChecker Verification Program. Consumers can search verified pharmacies and easily compare their medication prices on our website.
Currently, one 42.5 g tube of 0.01 % Estrace can cost you around $429 at your local U.S pharmacy. The generic version, estradiol, is about half that and may be the cheapest option. If you need the brand version, you can find the same quantity of Estrace as low as $339.95 at a verified international pharmacy by comparing prices on PharmacyChecker.com. That's an 21% discount vs. Estrace sold in the U.S.
Back to Top
Other Ways to Save Money on Estrace
If you prefer to shop at your local U.S. pharmacy for Estrace or estradiol, just scroll to the bottom of each price page and enter your ZIP Code to find the discounts available in your area. When you choose a pharmacy, just click "Print Card for This Pharmacy" and you are all set to obtain your discount on Estrace at the pharmacy specified on the discount card.
PharmacyChecker.com also offers a search tool for patient assistance programs. Many pharmaceutical companies offer aid with the cost of medications through patient assistance programs.
Estrace Patient Assistance Program
Back to Top
Where is Estrace made?
We found packaging of Estrace cream sold in the U.S. that was manufactured in Canada by Contract Pharmaceuticals and distributed by Allergan. See below.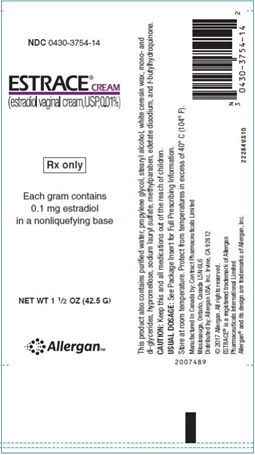 Back to Top
Compare drug prices among reputable online pharmacies