How can Americans save money on Nasonex?

Nasonex (mometasone) is a brand-name corticosteroid that works by reducing inflammation in nasal passages. Nasonex is used to prevent and treat allergy symptoms, such as a runny or itchy nose and sneezing. It is also used to treat nasal polyps.
In the United States, the current average retail price of just one nasal spray of Nasonex 50 mcg is around $315. The generic, mometasone, is around $225. Even with discounts and coupons available online, the price may still be out of reach for many, especially those without insurance.
The least expensive option may be to purchase Nasonex (mometasone) internationally from a licensed pharmacy in Canada or other country where drug prices are much lower than in the U.S.The lowest price found when comparing Nasonex 50 mcg prices among PharmacyChecker-verified international online pharmacies is currently $35 for one nasal spray. That's an 89% savings on brand-name Nasonex. The generic mometasone is around $28.
When comparing Nasonex prices or its generic version on PharmacyChecker.com, you can filter results be comparing "Price Per Unit" or "Total Price." To order your medication, you must click your chosen verified pharmacy's logo and order through their website.
Nasonex Patient Assistance Program
If you cannot afford an expensive medication, some pharmaceutical companies offer programs that cover all or part of the cost of their drugs.
Back to Top
Where is Nasonex made?
Nasonex 50 mcg sold in the United States (see label below) is made in Singapore by MSD International GmbH. It is distributed by Merck Sharp & Dohme Corp., a subsidiary of MERCK & CO., Inc.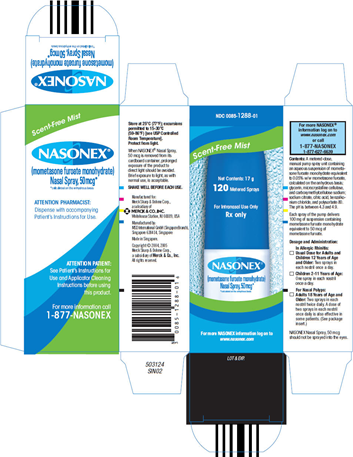 Compare Nasonex Prices Now
Compare prices among U.S. discount coupons and accredited international online pharmacies
Back to Top
Compare drug prices among reputable online pharmacies