How do consumer reviews on PharmacyChecker.com work?

Consumer ratings and reviews can provide insight into what one can expect when choosing to purchase medication from an online pharmacy. It's important to distinguish between the PharmacyChecker verification checks from a consumer's rating and review. They are very different.
PharmacyChecker verifies that all pharmacies in our program meet critical pharmacy practice standards. The five checkmarks displayed on our Online Pharmacy Reviews and Pharmacy Ratings page next to the online pharmacy's logo indicate that your medication will be dispensed from a licensed pharmacy; a prescription is required; personal and financial information is protected; and that the mailing address and phone number published on the website allows you to contact the pharmacy. We do not endorse one pharmacy over another.
In addition to verifying the safety of international online pharmacies and comparing their prices, PharmacyChecker.com provides a space for consumers to rate and comment on their experience ordering from an online pharmacy in our program.
Consumer Ratings & Reviews
Sometimes, just as with pharmacies in the U.S., verified pharmacies receive reviews based on satisfaction with customer service, which is different than PharmacyChecker's verification of pharmacy practice standards. We encourage consumer reviews and comments about individual pharmacies on our website and expect pharmacies in our program to offer a positive experience to customers.
Every PharmacyChecker-verified pharmacy in our listing program has an individual pharmacy profile featured on our website, which you can access by clicking the link under each pharmacy logo. Pharmacy profiles feature information regarding ratings, shipping, contact information, etc. The below image shows an example of a pharmacy with a "Consumer Rating" of 0-5 stars. Click "See Consumer Reviews" to get an idea of why an individual pharmacy received certain feedback, or you can contribute your own rating by clicking "Add Your Reviews."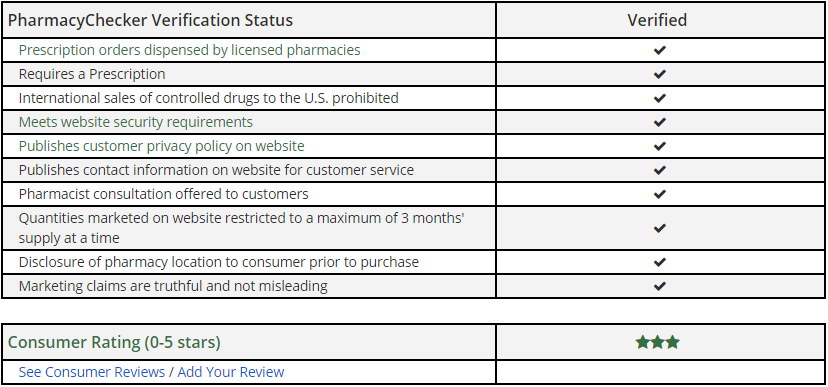 If you would like to add your own rating or comment, you can do so by clicking "Add Your Review."
We require our members' websites to disclose average processing and shipping times so customers will know what to expect. We also require members to ensure consumers have access to a pharmacist for consultation and require that they clearly publish a working telephone number and valid mailing address on their website. Most members have a "Contact Us" page on their websites, which also typically includes their business hours. Some pharmacies also have a "Live Chat" option allowing you to ask questions while on the pharmacy's website.
Back to Top
Consumer Complaints
PharmacyChecker.com provides assistance to consumers that have brought a matter involving a member to our attention. We work with the consumer and the pharmacy to try to resolve the matter.
Back to Top
Compare drug prices among reputable online pharmacies