Namenda (memantine): Made in America; Cheaper Abroad

Namenda made in the U.S. is sold outside the U.S. for 94% cheaper. And Americans can easily order it directly to their door.
A 94% difference sounds like an exaggerated scam, but it's sadly (or 'fortunately' considering you can take advantage of the cheaper price?) true. I suppose it's just plain sad that you have to do research to afford a much-needed medication without breaking the bank. Especially if you or your family member are in the throes of dealing with an Alzheimer's diagnosis.
Although most drugs sold in the U.S. are not made in the U.S., Namenda appears to be made domestically. I would hope, as many of our fellow Americans do, that if a drug is made here in Missouri, for example, it would be sold here cheaper than its cost in Canada or the UK. Alas, that's just not the case with our backwards healthcare economy: Sixty tablets of American-made
Namenda 10 mg are available from international online pharmacies for a mere 53 cents per pill. Even in conjunction with a discount card, the cost is $7.77 per pill for Namenda sold in U.S. pharmacies.
Namenda (memantine) Costs: USA vs. International

Drug Strength (Quantity)
U.S. Average Retail Price
PharmacyChecker U.S. Discount Card Price
Canadian Pharmacy Price (with shipping)
International Pharmacy Price (with shipping)
Namenda (brand) 10 mg (60 tablets)
$524.92
$466.45
$269.44
$31.82
Memantine (generic) 10 mg (60 tablets)
$174.57
$27.21
$115.18
$15.00
Prices collected December 2019
The generic of Namenda, memantine, on the other hand is far more competitively priced in the U.S., as is the case with many generic drugs, much lower in the U.S. than in Canada. As you can see in the price comparison chart, the absolute lowest cost generic version is $15 for sixty 10 mg tablets, available internationally.
Some packaging of brand-name Namenda 10 mg sold in U.S. pharmacies states that it is manufactured by Forest Laboratories, Inc. in St. Louis, Missouri. However, we found FDA data that indicates Namenda is "manufactured for Forest Pharmaceuticals, Inc.," a subsidiary of Forest Laboratories, Inc. in St. Louis, Missouri, and "manufactured by Forest Laboratories Ireland Ltd." So, perhaps Namenda is also made in Dublin, Ireland (location of Forest Laboratories Ireland). Drug manufacturers are intentionally vague about their disclosure of manufacturing locations. They use slight language tweaks, such as swapping manufactured "for" and "by", perhaps to keep up the false image that medications you take are made in the USA. The truth is that many medications sold on our pharmacy shelves are not made in the U.S.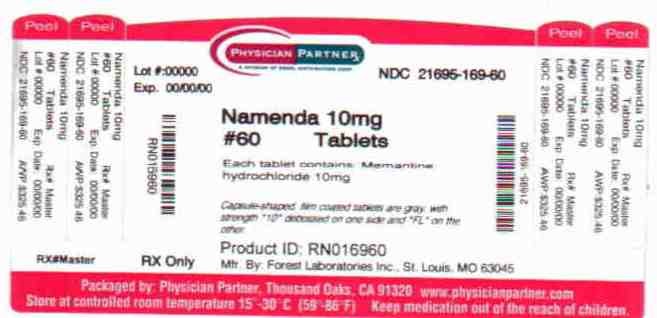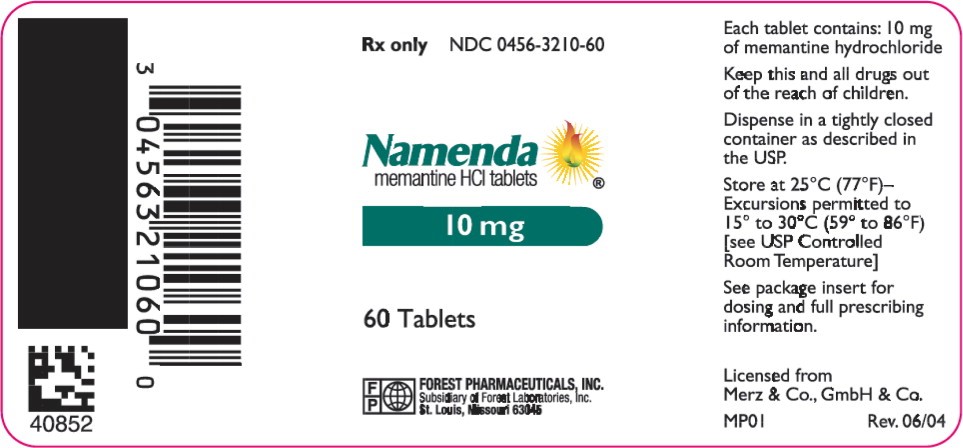 Back to Top
Safely order Namenda (memantine) from abroad
What is most important is that cost doesn't prohibit you from getting Namenda if your doctor has prescribed it for you or a loved one. As stated, Namenda is significantly cheaper outside the U.S. And you can get it from a trustworthy, credentialed pharmacy. PharmacyChecker identifies the safest international online pharmacies so you don't have to get lost in the swamp of dangerous, rogue websites out there posing as legitimate pharmacies. Here's a list of accredited international online pharmacies:
Back to Top
Read more about ordering medication safely online
How can patients deal with drug price increases?
I don't have health insurance to cover my prescriptions. How can I afford my medication?
Why are brand-name drugs so expensive?
Do you have questions or concerns about getting discounts on prescription memory loss medication? We're here to help.
Comment below or ask a question by logging in to My PharmacyChecker.
Back to Top
Compare drug prices among reputable online pharmacies