Is your online pharmacy safe? How to Know for Sure.

I'm a pharmacist, licensed and trained to take care of patients who need prescription drugs. So, you want to be sure you are shopping at a legitimate online pharmacy but don't know where to start in your search? Completely understandable. The PharmacyChecker Verification Portal helps online pharmacy shoppers verify the legitimacy of their chosen website. The Verification Portal has helped many consumers verify the safety of Canadian and other international online pharmacies that meet high standards of pharmacy practice, protecting them from dangerous operations that lurk online to sell counterfeit medications or steal financial information. Many Americans seek out prescription drugs online that prove more affordable in other countries. The work of the PharmacyChecker Verification Program makes it much easier to do so safely.
How is the PharmacyChecker Verification Portal useful?
The answer is simple: Consumers can more easily avoid rogue websites and only buy medicine from licensed pharmacies that deliver high quality, regulated medications safely to their doorsteps. There are thousands of rogue websites that pose as pharmacies to take advantage of consumers. We hope that karma finds its way to those criminals.
By ordering medication from PharmacyChecker-accredited pharmacies, you can protect yourself and your family.
Here is a list of key criteria that the PharmacyChecker Verification Program checks before accrediting an online pharmacy:
Prescription orders dispensed by licensed pharmacies verified by PharmacyChecker

Requires valid prescription for all medication orders

Meets website security requirements

Controlled drugs, such as Xanax and Percocet, are not sold internationally to the U.S.

Publishes contact information on the website for customer service

Publishes customer privacy policy on the website

Offers pharmacist consultation to customers

Discloses country of pharmacy location to the patient prior to purchase

Drug marketing claims checked for accuracy

Quantities marketed on the website restricted to a maximum of 3 months' supply at a time
You can find all our verification program standards here.
Back to Top
How do I use the PharmacyChecker Verification Portal?
The verification portal is easy to use. You can check whether an online pharmacy is reputable in just three steps.
1. Go to https://www.pharmacychecker.com/verification-portal/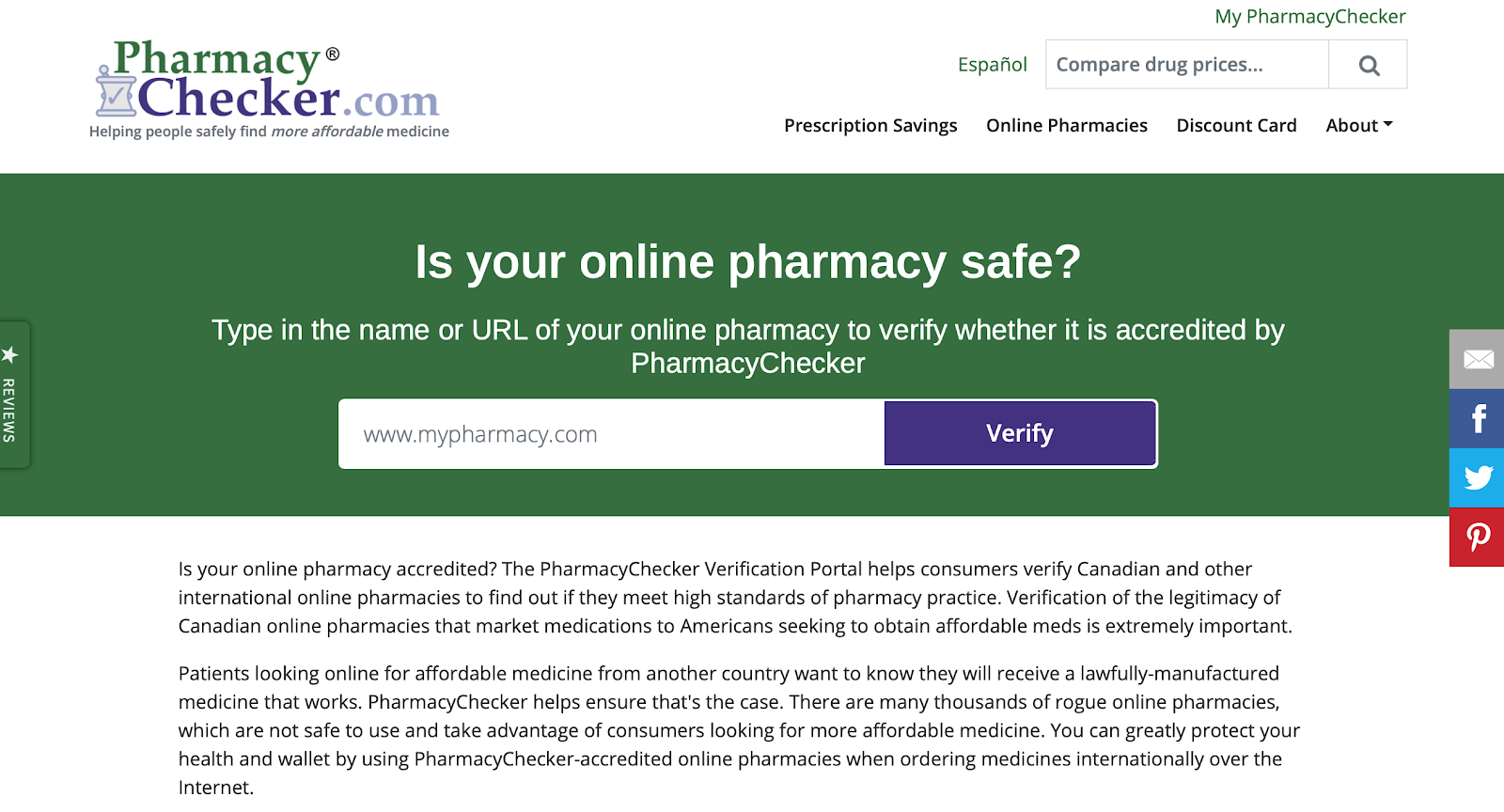 2. Type in the URL of the pharmacy website you wish to check and click the purple "verify button." We used "onlinepharmacysample.com" in our example below.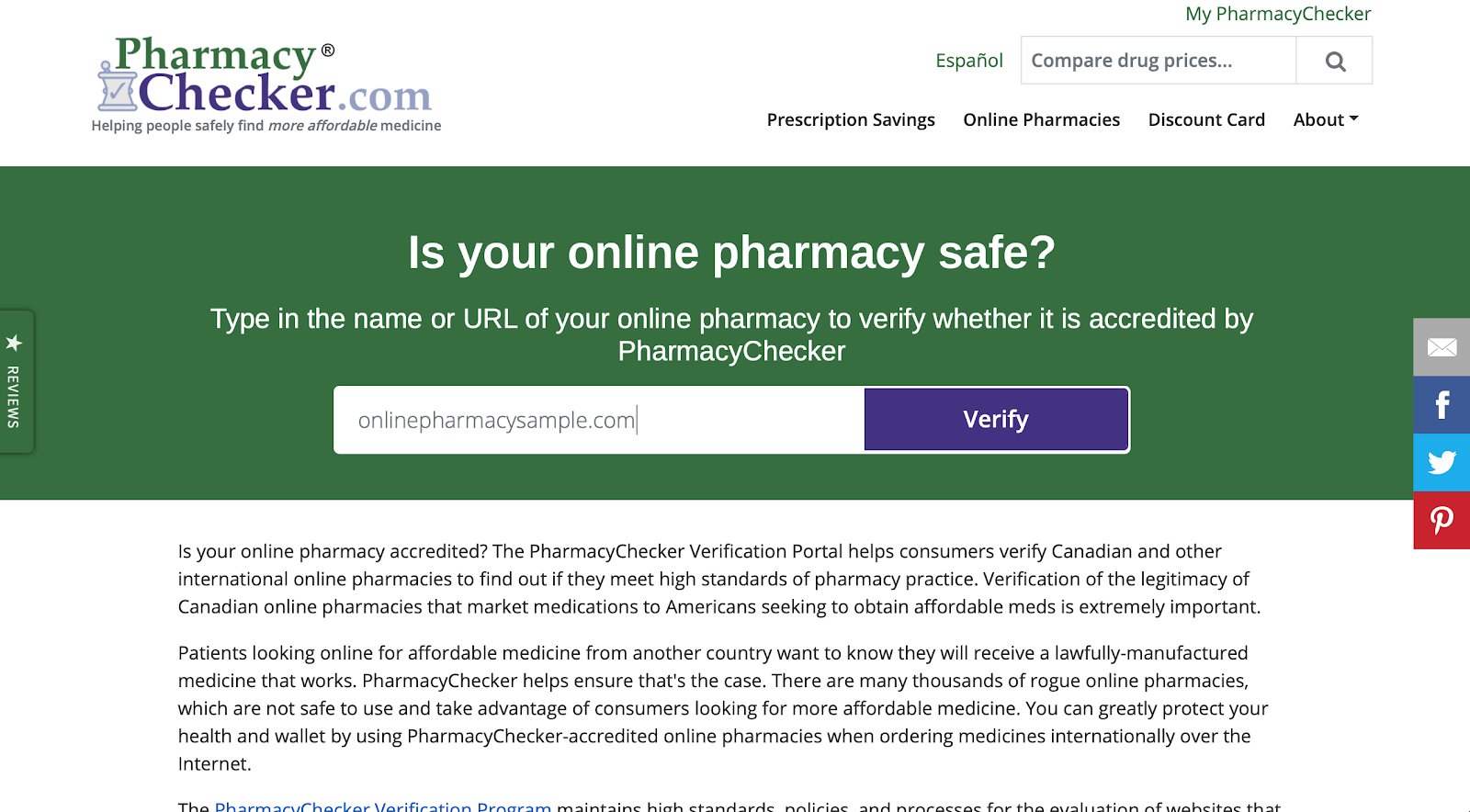 3. View the results! If the pharmacy is accredited by PharmacyChecker it will say "Status: Accredited" and display a green checkmark next to the name. When a pharmacy is not accredited, it will simply say "Status: Not Accredited". We recommend shopping only at websites that have "Status: Accredited."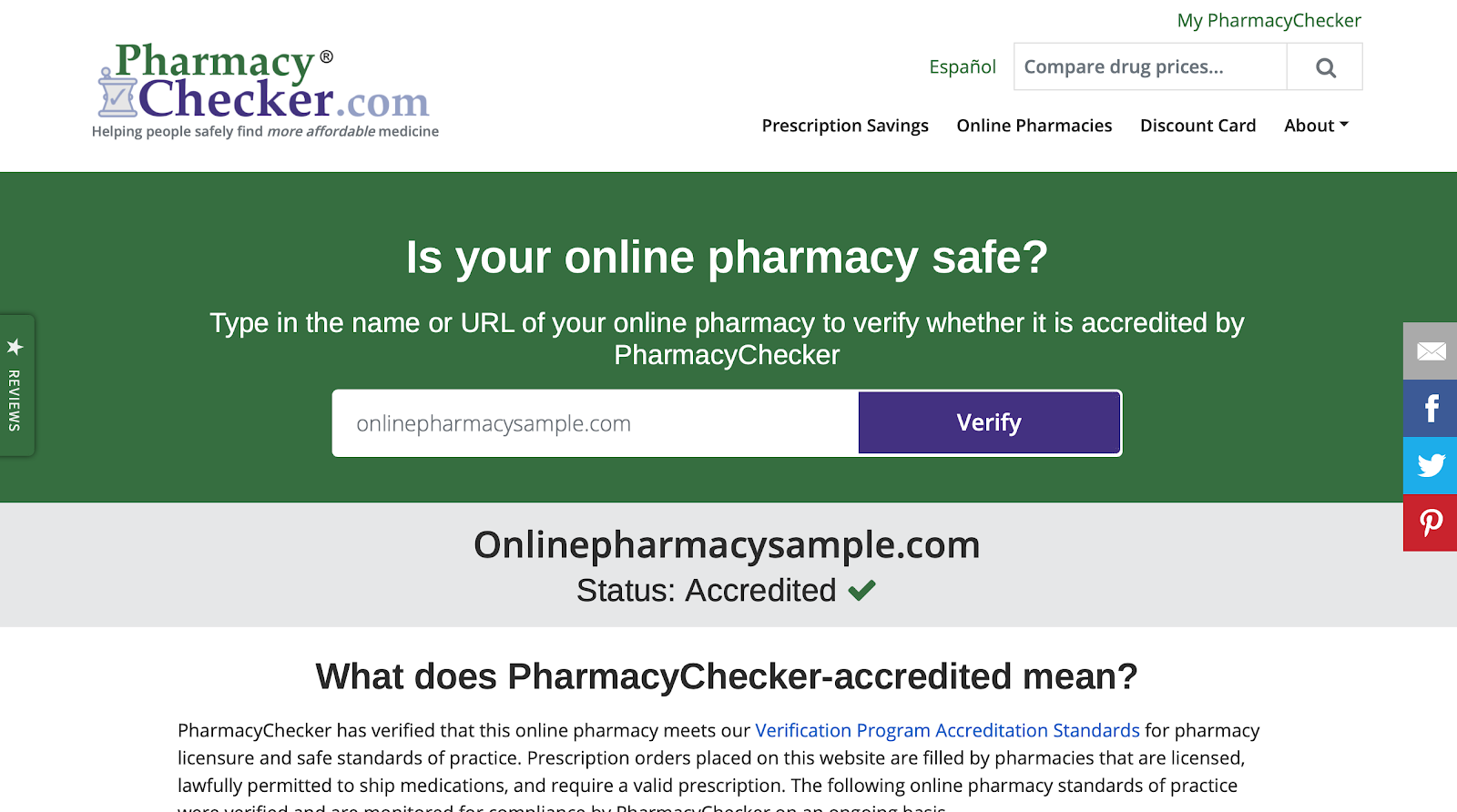 And that's all there is to it. The next time your alarm bells go off and you're really not sure about ordering medication online, hop on the Verification Portal and see if you're protected and in the clear.
Back to Top
Finding An Accredited Pharmacy
The Verification Portal is there for you to use when you are interested in buying prescription drugs from a particular online pharmacy that you have learned about. If you want to see a list of online pharmacies accredited by PharmacyChecker, we got you covered.
PharmacyChecker-Accredited Online Pharmacies
Back to Top
Rogue Websites Posting as Online Pharmacies
By now, I hope you fully understand how to use the PharmacyChecker Verification Portal to protect yourself from rogue pharmacy websites. If you still want to keep your eyes peeled on clear indicators of danger, check out my pharmacist tips below:
Do not buy prescription medications from online pharmacies willing to sell you a prescription drug without asking for your valid prescription.

Avoid online pharmacies that do not publish verifiable contact information.

Make sure you know the drug you are ordering will come from a licensed pharmacy.

Avoid pharmacies that do not meet security requirements that protect your financial information, if the webpage says "not secure" avoid it!
We recognize at PharmacyChecker that you need to find lower prices than those available locally. If you buy meds from Canada or other countries, stay safe by only shopping at PharmacyChecker-accredited sites.
Consumer safety above all.
Browse our approved list of Canadian online pharmacies that are vetted for patient safety
Back to Top
Compare drug prices among reputable online pharmacies