Patients Don't Support Prescription Price Hikes (And Neither Does Clinical Evidence)

Highlighting reporting on prescription drug prices in the United States is, to put it plainly, quite depressing. Unfortunately, considering the difficulties in Congress right now to fully deliver on Medicare's price negotiating power, the release of the annual Unsupported Price Increase Report from the Institute for Clinical and Economic Review (ICER) doesn't exactly give us a breather. In it, ICER identifies popular drugs that underwent substantial price hikes in 2020 without adequate clinical evidence to justify the increases. I would think one would be hard-pressed to find "adequate" evidence to ever justify price gouging patients, especially those with chronic illnesses.
The nine medications with price increases deemed unjustified by the ICER are among the top 250 medications with the largest sales revenue in the United States last year.
"Several of these treatments have been on the market for many years, with scant evidence that they are any more effective than we understood them to be years ago when they cost far less," said ICER Chief Medical Officer David Rind.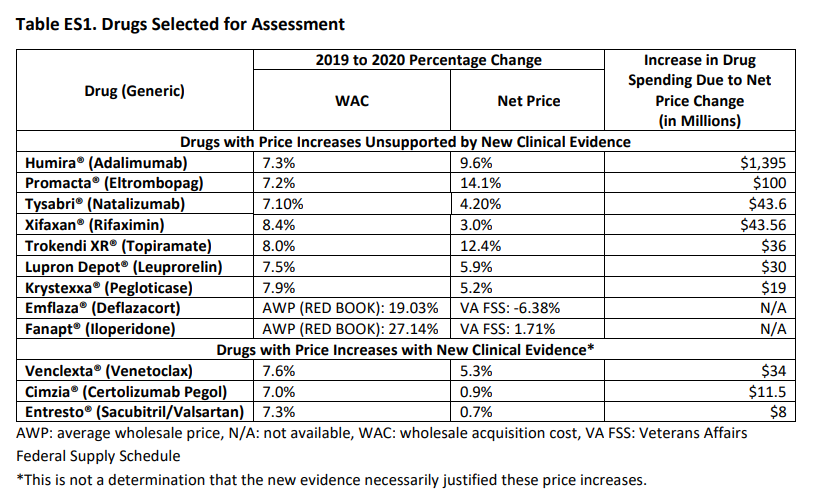 Source: Institute for Clinical and Economic Review, 2021
When this report talks "price," they focus on wholesale acquisition costs and net price. That's coded language for "this isn't really a patient-focused study." So, let's get down to the gritty on a few of the drugs from the report: the list price (i.e., the price you'll find when you get to the pharmacy counter) and potential savings among coupons or mail-order pharmacies.
Promacta List Prices
Promacta, marketed by the drug company Novartis, is used to treat severe aplastic anemia. According to the ICER report, Promacta's net price increased 14.1% between 2019 and 2020, leading to a $100 million increase in U.S. spending.

The lowest price listed by international pharmacies on PharmacyChecker.com for Promacta 50 mg is $68.62 per tablet. Per. Tablet.
Even that ridiculous price is 90% cheaper than the U.S. pharmacy retail price of $714.67 per tablet.
Eltrombopag, the active ingredient of Promacta, is manufactured and marketed by GlaxoSmithKline under the name Promacta in the United States and Canada, and as Revolade in the European Union. Both are formulated in Ireland.
Although not available as a generic in the U.S., eltrombopag can be ordered internationally from India for half the international brand cost: $35.89 per tablet
Back to Top
Xifaxan List Prices
Xifraxan treats irritable bowel syndrome (IBS). The list price of brand Xifaxan at U.S. pharmacies is over six times the price of the version sold at a PharmacyChecker-vetted pharmacy located in the UK.

The lowest price on PharmacyChecker.com for Xifaxan (rifaximin) 550 mg is $9.02 per tablet. Patients can save a meaningful 83% off the average U.S. pharmacy retail price of $56.25 per tablet.

Rifaximin, Xifaxan's generic version, is currently unavailable in the U.S. Like Promacta, Xifaxan has a generic that is accessible via international mail order. The lowest price for generic Xifaxan (rifaximin) is $0.78 per pill if ordered from one of the pharmacies we monitor for safety. So someone suffering from IBS could potentially save 99% off their pharmacy bill if they only knew prices were this low and accessible via ordering online.
Back to Top
Lupron Depot List Prices
Lupron Depot is an expensive specialty drug that is used to treat advanced prostate cancer in men and endometriosis, uterine fibroids, or other hormone-related problems in women.
According to Amazon, the U.S. list price for one 1ml/7.5mg kit is $1874.12. Yikes, that's steep.
Lupron Depot, mailed from Canada by a PharmacyChecker-accredited pharmacy, costs as low as $473.74 for the same kit. That's a potential 75% savings for patients choosing the international pharmacy option.
This savings is achieved by ordering from an online pharmacy that only ships from dispensing pharmacies located in Canada. This isn't always the case: many online pharmacies work with dispensing pharmacies located all over the world. On our website, the

icon means that an online pharmacy only ships from dispensing pharmacies located in Canada. Separately, the Tier 1 icon means that an online pharmacy accredited by PharmacyChecker only fills prescription orders through their own pharmacy or dispensing pharmacy partners in Australia, Canada, Israel, New Zealand, the United Kingdom, or the U.S. Such countries are known to have equally advanced pharmaceutical and pharmacy regulatory systems. Please note that all PharmacyChecker-accredited online pharmacies (tier 1 and non-tier 1) meet the same high standards as identified in the PharmacyChecker Verification Program.
Back to Top
Emflaza List Prices
Emflaza, yet another medication without a generic option in the U.S., is used for the treatment of Duchenne muscular dystrophy. It burst onto the U.S. scene at $35,000 a year. And this jaw-dropping list price was reached only shortly after facing scrutiny by Senator Bernie Sanders and Congressman Elijah Cummings over the initially proposed price tag of $89,000 a year. Muscular Dystrophy News Today captured just how egregious such a price was relative to prices in the rest of the world:
"Largely, outrage focused on the fact that the key ingredient in Emflaza, deflazacort, is a corticosteroid — and these steroids, including deflazacort, have long been used in other countries to slow the decline in muscle strength in boys with Duchenne MD. Patients in the U.S. have been able to purchase deflazacort from abroad at a cost estimated to range from $1,000 to $1,200 a year. That access, however, will close once Emflaza officially arrives on the American market."

According to Drugs.com, the retail cost for Emflaza oral tablet 6 mg is around $68 per tablet at U.S. pharmacies. The lowest price listed on PharmacyChecker.com for the brand Emflaza (deflazacort) 6mg is $0.80 per tablet. These price differences are some sort of cruel joke. The generic, available through international mail order, can be purchased for as low as $0.55 per tablet.
Back to Top
Cimzia List Prices
Cimzia is one drug the ICER report concludes as having a price increase with new, but not necessarily "unjustified" clinical evidence. Cimzia (certolizumab) is used to treat rheumatoid arthritis, psoriatic arthritis, ankylosing spondylitis, non-radiographic axial spondyloarthritis, Crohn's disease, and plaque psoriasis.
The list price of Cimzia is $8,919.50, and you can probably get a GoodRx coupon to cut that price in half -- $4,746.91 -- at the pharmacy.
If ordered from a vetted PharmacyChecker-vetted international pharmacy, the lowest price for an ampoule kit is $434.34 with shipping included.
Back to Top
Entresto List Prices
Entresto finds itself in the same boat as Cimzia: ICER did not determine that the new evidence necessarily justified its price increases. Again, I don't really think any evidence justifies most drug companies' profit margins. Entresto is used to reduce the risk of death of those with chronic heart failure. There is currently no generic equivalent available in U.S. pharmacies.
According to Amazon's list price, the cost for Entresto oral (24 mg-26 mg) is around $10.82 per tablet.
An international pharmacy vetted by PharmacyChecker can ship Entresto to a U.S. patient for $2.20 per tablet.
Back to Top
Humira List Prices
Because Humira, to this day, does not face any competition from biosimilars, the manufacturer, AbbVie, is able to charge the highest price they believe American patients will pay. Humira was approved for sale in the U.S. on December 31, 2002. The patent on Humira's main molecule expired in 2016, but Abbvie swiftly ensured future profits were protected, gathering more than seventy newer patents that covered formulations of the drug, manufacturing methods, and use for specific diseases.
Rind says that Humira's "ever-escalating U.S. price [...] contrasts starkly to its falling price in every country where Humira currently faces biosimilar competition." Amgen has created such a biosimilar, called Amjevita. Although it's been approved in the U.S. for quite some time, it isn't expected to be available for sale until 2023.
Humira's List Price Status
According to GoodRx, the average retail price at U.S. pharmacies is a whopping $9,338.02 for a carton of two 40mg syringes. And discount coupons only get you so far: the U.S. coupon prices on PharmacyChecker hover around $6,000. To inflict the stress of paying such a sum on a person already dealing with ulcerative colitis or Crohn's disease, two conditions for which Humira is widely-prescribed, is criminal.
Humira at Mail Order International Pharmacies
The cost of a year supply of Humira sold in Canada is $20,186.
That's $1,552.82 for two 40mg syringes.
Which is 75% cheaper than a U.S. coupon price.
That price differential makes my blood boil.
Humira is a temperature-sensitive medication and therefore requires cold chain management during shipment. Foreign and domestic pharmacies in the PharmacyChecker Verification Program must ensure that shipments of Humira are not exposed to temperatures below 2 degrees or above 8 degrees Celsius.
There are currently no PharmacyChecker-verified pharmacies shipping refrigerated products to patients in the U.S., but we are hopeful that this will become a reality in the near future. Watch this space!
Consumer safety above all.
We vet and monitor international online pharmacies for patient safety
Back to Top
Compare drug prices among reputable online pharmacies