6 Ways PharmacyChecker Helps You Afford Prescription Medication

As a pharmacist, whether we meet in person or through the comment section on this post, it is my duty to help you not only get the optimal treatment you need, but afford it. At PharmacyChecker, we work to inform savvy consumers of the gamut of drug savings options available so you can make the best financial decisions for you and your family. On our website, you'll find accredited online pharmacies located in Canada and other countries; the U.S. Prescription Discount Card, which you can use locally at U.S. pharmacies, such as CVS and Walmart; drug price alerts specific to your medications; patient prescription assistance program information; and updates concerning the latest on drug prices in the U.S. Explore all the ways PharmacyChecker ensures you get the medication you need with the lowest possible price tag.
1. PharmacyChecker Accredited Online Pharmacies
Compared to pharmacies in the U.S., accredited online pharmacies offer patients savings up to 90% off. This could mean thousands of dollars in your pocket per year. I'm certainly not saying you should avoid your local pharmacy and switch to shopping online, but, as with anything, it's worthwhile to compare prices before you buy. Luckily for you, we have already done the hard work. Through the PharmacyChecker Verification Program, we evaluate, accredit, and continuously monitor online pharmacies to protect your health, money, and personal information. Then, we compare their prices with those listed at your local pharmacies.
Brand name prices can cost much more at U.S. pharmacies than pharmacies in other countries. Contrary to what you might think, generic medications usually cost less in the U.S. than in Canada. Compare your specific prescription prices here.
Back to Top
2. Free U.S. Prescription Discount Card
PharmacyChecker provides major savings -- an average of an 87% discount major -- on prescriptions at local U.S. pharmacies with our U.S. Prescription Discount Card. This card is important because it provides significant discounts at local, independently-owned pharmacies (support small businesses!) and all major chain pharmacies. Compare prices locally here and download or print a discount card today to save money instantly.
If you still find that the prices on your medication are too expensive locally, we recommend checking PharmacyChecker-accredited international online pharmacies to find cheaper prices on costly brand name drugs and generic drugs.
Back to Top
3. Free Price Alerts
PharmacyChecker Price Alerts help subscribers stay on top of medication costs with personalized email alerts. It's completely free, and, whether you select an alert each month or every 90 days, it's a vital weapon in your savings arsenal. Drug prices fluctuate quite often. With alerts, you can track pricing in order to take advantage of when your drugs' prices are the lowest. Sign up for price alerts by searching for your medication on PharmacyChecker. Peep the example below.

Back to Top
4. Free Weekly Newsletter
If you want more than just drug prices, we offer a newsletter that provides subscribers with the latest news surrounding online pharmacies, personal drug importation, and prescription drug savings! You can sign up for the PharmacyChecker newsletter for FREE here. Here's an example of a newsletter: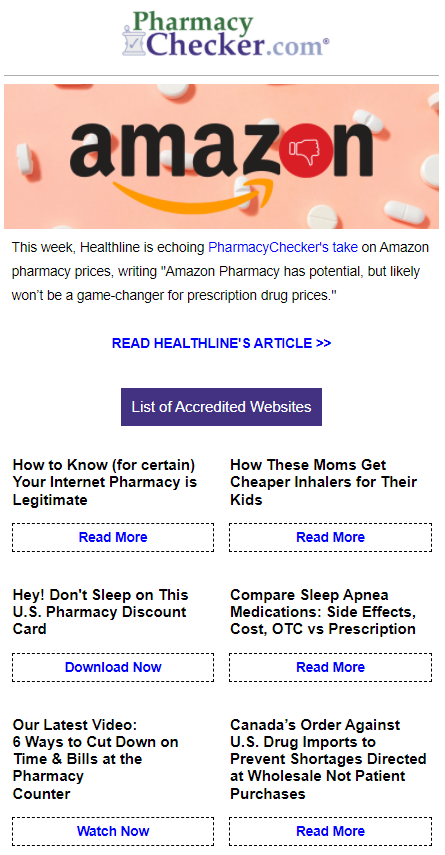 Back to Top
5. My PharmacyChecker
The best way to bundle all the free subscription services we provide is by joining My PharmacyChecker. You can easily create a free account here to get started. My PharmacyChecker is your drug pricing dashboard for all things savings and drug pricing news. It includes:
Ask PharmacyChecker: Through Ask PharmacyChecker, you can ask me and other pharmacy savings experts here at PharmacyChecker your questions about online medication.

Price Alerts: Save all of your custom price updates on all your medications every 30 or 90 days.
Newsletter: Read up on exclusive drug savings tips and tricks in addition to important news directly to your inbox.
PharmacyChecker Consumer Ratings and Comments: Sharing is caring. Rating or commenting on your chosen online pharmacy prepares others for their own experience with ordering from accredited websites
Back to Top
6. Advocacy
The work we do to save you money doesn't stop at comparing drug prices and free subscription services: PharrmacyChecker is a diligent advocate for lowering prescription drug costs in America. We believe that no American should be forced to decide between accessing the medication they need, and buying food or paying rent. Did you know that 45 million Americans skipped filling their prescriptions due to the cost in 2016? That's 45 million stories about not being able to afford medicine. PharmacyChecker aims to amplify these stories to continue to sound the alarm on this crisis.
Please share your story about affording high drug prices at: yourstories@pharmacyhecker.com
Find A Safe Online Pharmacy
See Canadian and international online pharmacies that are licensed and vetted for patient safety
Back to Top
Compare drug prices among reputable online pharmacies