How can I safely order medication from an online pharmacy?

Many people order prescription medications online. Americans buy medications through mail-order pharmacies associated with their health insurance or from independent online pharmacies based in the U.S. Many opt to shop at international online pharmacies due to cost. The key is to do so safely.
If you decide to purchase medication from an international online pharmacy, we strongly recommend that you stick to websites that are approved in the PharmacyChecker Verification Program. Even if you purchase medication domestically, make sure the website is properly certified or it is the website of your neighborhood pharmacy. That is the best way to ensure your safety when ordering medication online.
All safe online pharmacies meet the following standards:
Safe online pharmacies always require a valid prescription from a physician or other licensed health care professional in direct contact with the patient
Prescription orders placed are dispensed by licensed pharmacies
A licensed pharmacist is available to answer your questions
PharmacyChecker.com's main mission is to identify safe online pharmacies, not rogue, dangerous websites. However, we do provide information on rogue pharmacies that can help you understand how rogue online pharmacies operate and the characteristics they share so that you may avoid them.
How to Buy Medication from Online Pharmacies
1. Enter the name of the drug you are looking for (e.g. Zetia) into the search bar in the middle of the PharmacyChecker.com home page or in the top, righthand corner. Then click "Find Lowest Price" or the magnifying glass.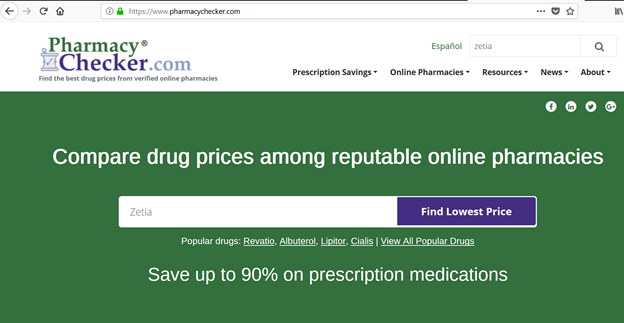 2. Confirm the medication version and strength. On this page, you are presented with an option to choose the "Generic" version (e.g. ezetimibe). Select the strength of the medication for which you would like to compare prices.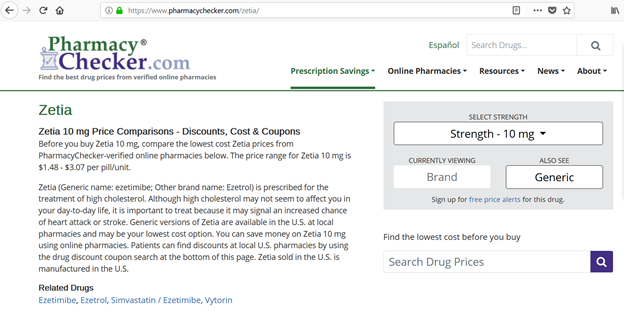 3. Below, we've selected the brand version. We've also made sure the strength is set to 10 mg. Now, we're ready to compare. We can sort prices by simply clicking "Sort by price." Notice the price breakdown per pill/unit. This is how you can get the best savings on a 90-day supply. Then, click the logo or big purple price button to direct to the pharmacy website of your choice to buy your medication.once you are ready.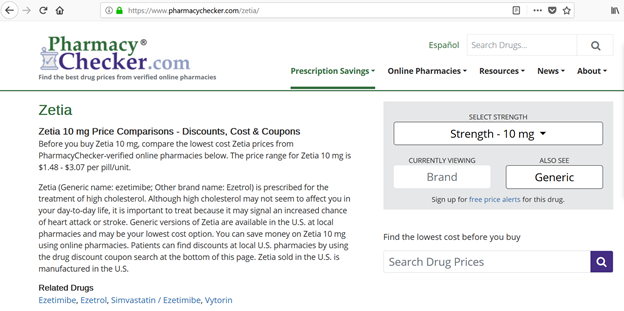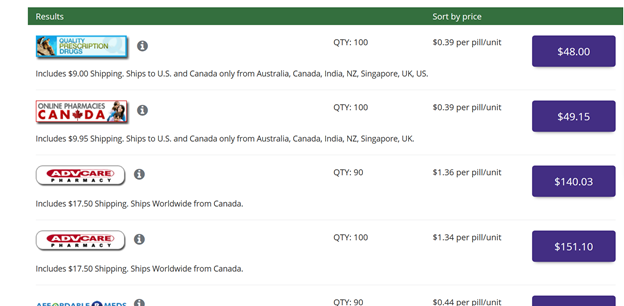 4. Clicking the logo or big purple price button will direct you to the pharmacy website. All sites that list prices on our website are PharmacyChecker-verified and therefore considered one of the safest international pharmacy options. PharmacyChecker.com does not recommend one verified site over the other. On some sites, you may have to select the strength you would like again (e.g. 84 tablet) and then click "Add to Cart" once you are ready.
5. Please note that you will find a PharmacyChecker Seal displayed on sites that have been verified through the PharmacyChecker Verification Program indicating this website is indeed verified and currently monitored by PharmacyChecker.com. Click the seal on those sites to ensure it's real! A real seal will direct you to a pharmacy profile and display the current date.
6. On some sites, you may have to enter login information or sign up as a new user. If this is the case, enter the blank fields accurately, carefully read the terms and conditions, and then continue on to checkout. You may have to verify the order one more time.
7. You will receive an order confirmation page. To complete your order, you will need to email, mail or fax a copy of your prescription(s). Please note if you are emailing or faxing in your prescription, you sometimes need to mail the original prescription depending on the pharmacy.
Back to Top
Why Patients Use PharmacyChecker.com
PharmacyChecker was established in 2003 to help consumers find qualified online pharmacies in the U.S., Canada and abroad. PharmacyChecker is also a valuable resource for finding the lowest drug prices available online.
Online pharmacies are verified for high standards of online pharmacy practice before acceptance into the PharmacyChecker Verification Program and listing on PharmacyChecker.com. If the website and pharmacy successfully pass our evaluation, the website is approved and provided a valid Verification Program seal to place on their website. Qualifications and credentials are re-checked on an ongoing basis. The program is run by the Director of Pharmacy Verification and Information, Shivam Patel, PharmD, BSPS, RPh — a licensed pharmacist in Massachusetts.
The following is a sample list of important criteria we check for all online pharmacy applicants:
Prescription orders dispensed by licensed pharmacies verified by PharmacyChecker
Requires valid prescription
Meets website security requirements
Publishes customer privacy policy on website
Publishes contact information on website for customer service
Pharmacist consultation offered to consumers
Quantities marketed on website restricted to a maximum of 3 months' supply at a time
Disclosure of pharmacy location to consumer prior to purchase
Marketing claims checked for accuracy
Controlled drugs, such as Vicodin and Xanax not sold internationally to the U.S.
PharmacyChecker.com is frequently cited and recommended by popular and well-respected media channels including AARP, CNN, The New York Times, National Public Radio, and the Wall Street Journal.
Find A Safe Online Pharmacy
See Canadian and international online pharmacies that are licensed and vetted for patient safety
Back to Top
Compare drug prices among reputable online pharmacies