How can patients cut costs on Levothyroxine? Is the brand name Synthroid actually cheaper abroad?

Levothyroxine sodium, often shortened to just "levothyroxine," is a prescription generic medication used to treat hypothyroidism. Levothyroxine can also treat an enlarged thyroid gland and thyroid cancer.
Hypothyroidism, which affects as many as five in 100 people, occurs when our bodies quit producing sufficient thyroid hormones. The thyroid, a hormone-producing gland, regulates your body's metabolism and affects critical functions, such as general energy level and heart rate. The two thyroid hormones that are released into your bloodstream are called triiodothyronine (T3) and thyroxine (T4). Levothyroxine works by increasing the amount of T4 in your body.
What's most disconcerting is that around 60 percent of folks have no idea that they even have a thyroid disorder. It's important to be on the lookout for symptoms, which include fatigue, cold intolerance, constipation, dry skin, hair loss, muscle weakness, weight gain, and fertility problems.
Popular brand name versions of levothyroxine are Synthroid, Tirosint, and Levoxyl. Talk to your doctor about which could work best for you, as these drugs are actually not interchangeable, even though they have the same active pharmaceutical ingredient. Although the generic levothyroxine is covered by most insurance plans, local U.S. pharmacy drug discount card prices may offer savings. If you're looking for brand name Synthroid, your best shot for discounts lies at accredited online pharmacies.
View the chart below to see generic levothyroxine, Synthroid, and other brand name costs depending on the savings route you choose.
Levothyroxine Generic and Brand Cost in the U.S. vs. Discount Coupons vs. Online Pharmacies

Drug Strength (Quantity)
U.S. Average Retail Price
U.S. Prescription Discount Card Price
International Pharmacy Price (with shipping)
Greatest PharmacyChecker Savings
Levothyroxine 50 mcg (90 tablets)
$38.07
$13.73
$19.32
64%
Synthroid 50 mcg (90 tablets)
$148.71
$122.82
$23.95
84%
Tirosint 50 mcg (30 capsules)
$163
$132.03
$144.69
19%
Levoxyl 100 mcg (90 tablets)
$93
$13.04
$43.34
86%

As you can see, your best option for savings may not exactly be abroad. The U.S. Prescription Discount Card gives Americans 64% off levothyroxine sold at their local pharmacy. We encourage you to compare prices locally, at the Walgreens around the corner and also your mom-and-pop pharmacies, before assuming Canada is the best bet. With your PharmacyChecker discount, you can save around 86% on Levoxyl and close to 20% on Tirosint at Walmart, Rite Aid, and more. Synthroid, on the other hand, is significantly cheaper when ordered online through accredited pharmacies. When comparing drug prices on our site, the key is to sort by pill/unit in order to get the best price—our price comparisons include pharmacies in the U.S. vs. international accredited online pharmacies.
Talk over the differences between all therapeutic alternatives for levothyroxine with your clinician and pharmacist. They are there to help patients identify an affordable option that their specific insurance plan may cover or that is offered at a safe online pharmacy. As noted above, levothyroxine works by making up for a T4 deficiency to stabilize the hormone levels in the body. Some people do better on drugs that contain a combination of both T3 and T4. If your main concern is your energy level, eating a healthy diet, exercising more, reducing stress, and sleeping well can absolutely help. Save for pricey gym memberships, those tactics may be the best bet for your wallet. Again, consult your clinician before switching or discontinuing prescription medications.
Back to Top
Where is levothyroxine and Synthroid manufactured?
Packaging of Levothyroxine 100 mcg sold in the United States shows that it is made in India for the drug company, Athenex. It's worth noting that 71% of brand-name medication sold in the U.S. is manufactured outside of the U.S.



Based on our research, we believe that the Synthroid sold in the U.S. and Canada are the same medication. According to the FDA, some medications sold outside the U.S. are the exact same and others are not. We have found that, in many cases, medications sold in Canada and the U.S. are made in the same FDA-registered plants with the only difference being the packaging.
Packaging of Synthroid sold in the U.S. (pictured below) indicates that it is made in Puerto Rico (USA) and Chicago, Illinois.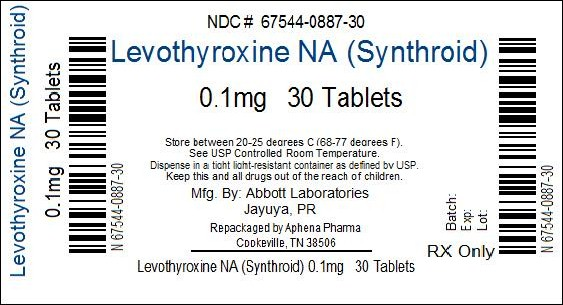 We also contacted AbbVie about Synthroid's origins, and they responded with the following:
"Synthroid marketed in the United States is manufactured in the United States, Puerto Rico, and Ireland (Data on file, AbbVie). AbbVie sources ingredients for Synthroid marketed in the United States from the United States, Puerto Rico, France, Italy, Japan, Mexico, and Germany.
This information is subject to change. If this information is needed in the future, please contact AbbVie Global Medical Information for updated information."
Back to Top
Read more on Ask PharmacyChecker & our blog
Do you online pharmacies sell Atenolol, Levothyroxine, and Atorvastatin?
Are drugs sold in Canada identical to those sold in the U.S.?
Is Synthroid in Canada the same as in the U.S.?
Do you have questions or concerns about ordering brand or generic hypothyroidism medications online or cutting costs at the pharmacy counter? We're here to help.
Comment below or ask a question by logging in to My PharmacyChecker.
Back to Top
Compare drug prices among reputable online pharmacies