How do women treat low sexual desire? Do Vyleesi or Addyi work?

If you are a woman experiencing a decrease in sexual desire, you are certainly not alone. Popular culture leads us to believe that when women aren't interested in engaging in sex, it's simply a result of being vindictive or selfish or, yes, boring. The truth is that women's sexual desires (and men's too!) naturally fluctuate over the years. There is nothing wrong with being disinterested in sex, but if you feel that it's not on your terms or posing a problem, know that there are solutions.
What is the cause of hypoactive sexual desire disorder among women?
Hypoactive Sexual Desire Disorder (HSDD), considered a sexual dysfunction, is characterized as an individual having a lack of sexual fantasies or desire for sexual activity.
Women can attribute their HSDD to a number of things: some physical, some psychological, and sometimes a mix of both. Psychological reasons include—but are certainly not limited to—depression, job stress, and issues in a relationship. On the physical side of things, low sex drive can be the result of declining hormones, prescription medicines, such as some antidepressants, too little or even too much exercise, or alcohol and drug use. Highs and lows usually coincide with the beginning or end of a relationship or with major life changes, such as pregnancy, menopause or illness. All of this is entirely normal. In fact, Hypoactive Sexual Desire Disorder affects women of all ages and may occur in up to one-third of adult women in the U.S.
Estrogen levels drop during the transition to menopause, which can make you less interested in sex and cause dry vaginal tissues, resulting in painful or uncomfortable sex. Hormone changes during pregnancy, just after having a baby and during breast-feeding can put a damper on your sex life. The fatigue alone. Tack on the potential changes in your body image, and the pressures of childcare and you have a recipe for changes in your sexual desire.
Reasons Women Lack Sexual Desire

Psychological Reasons

Mental health problems (anxiety, depression, etc.)
Stress (financial, work, etc.)
Poor body image or low self-esteem
History of physical or sexual abuse
Previous negative sexual experiences
Relationship issues (lack of trust, communication, etc.)

Physical Reasons

Sexual problems (pain during sex, inability to orgasm, etc.)
Nonsexual medical diseases (arthritis, cancer, diabetes, high blood pressure, coronary artery disease, neurological diseases, etc.)
Prescription medications (antidepressants, etc.)
Lifestyle habits (too much alcohol, street drugs, smoking, etc.)
Surgery (related to your breasts/genital tract)
Fatigue
Hormonal changes (menopause, pregnancy, etc.)
Back to Top
How is asexuality different from hypoactive sexual desire disorder?
The most notable difference between asexuality and HSDD is that asexuality describes a lack of attraction, whereas HSDD defines a lack of desire. The essential feature of HSDD is a deficiency or absence of sexual fantasies and desire for sexual activity that causes marked distress or interpersonal difficulty.
Back to Top
How do you treat hypoactive sexual desire?
Women don't necessarily have to meet the textbook definition of HSDD to seek help. If a low or decreased sex drive is your current reality, there are lifestyle changes and sexual techniques out there that can certainly assist. Some people resort to psychotherapy, which can be very effective for both the individual and their partners.
Some medications may offer promise as well. Drugs, Vyleesi (bremelanotide) and Addyi (flibanserin), are specifically FDA-approved and prescribed to treat HSDD in premenopausal women.
Back to Top
What is the difference between Vyleesi and Addyi?
Vyleesi is an injection, which is self-administered as required, and Addyi is an oral tablet, taken once daily at bedtime.
In clinical trials, about 25 percent of women treated with Vyleesi had an increase in their sexual desire score, compared to about 17 percent of those who took a placebo. The distress score decreased by 1 point or more for 35 percent and 31 percent of patients who took Vyleesi and placebo, respectively.
Flibanserin (Addyi) is a multimodal serotonergic agent that was originally developed by Boehringer Ingelheim for the treatment of major depressive disorder. Although unsuccessful in treating depression, it was reported to have the side effect of increased libido in female patients. In its own clinical trials, about 10% more Addyi-treated patients than placebo-treated patients reported meaningful improvements in satisfying sexual experiences, sexual desire or distress.
Back to Top
Save Money on Vyleesi (bremelanotide) and Addyi (flibanserin)
Talk to your clinician about which treatment plan for decrease in sexual desire could work best for you. Everyone is different, so it's important to get a professional diagnosis before assuming medication is the answer. There are currently no generic versions of Vyleesi or Addyi approved by the FDA.
As always, we do encourage folks to compare prices locally, at the chain pharmacy around the corner, but also your mom-and-pop pharmacies, before assuming accredited international pharmacies are the best option. Unfortunately, none of the international online pharmacies accredited in the PharmacyChecker Verification Program carry either medications.
Women Sexual Desire Medication Prices in the U.S.

Drug Strength (Quantity)
U.S. Average Retail Price
PC Discount Card Price
PharmacyChecker Savings
Vyleesi (bremelanotide) 1.75mg/0.3ml (1 autoinjector)
$775
$242.14
69%
Addyi (flibanserin) 100 mg (30 tablets)
$427.05
$425.10
Not Significant *We recommend calling around local pharmacies to get the best price. Additionally, check discounts on PharmacyChecker and GoodRx.
Prices Collected October 2019 | Average US Retail Price from GoodRx.com | US Discount Card Price from PharmacyChecker ZIP Code 24101
Vyleesi's website says that most insured patients pay a $0 copay for their first Vyleesi prescription. Then, payment is $99 for each eligible refill of 4 single-dose autoinjectors. PharmacyChecker savings experts recommend consulting your insurance company and doc before assuming eligibility.
According to Addyi's website, you can receive 8 weeks of Addyi free so that you can see how well it works for you via their savings card. They say that "for subsequent fills, you'll never pay more than $25/month if your commercial insurance covers Addyi. Until your insurer provides coverage, you'll never pay more than $99/month."
Back to Top
Where are Vyleesi and Addyi manufactured?
Most medications sold in the U.S. are not manufactured here in the U.S., but apparently these medications are. We called AMAG Pharmaceuticals, Inc., distributor of Vyleesi, to learn where Vyleesi is manufactured. A representative told us that it is manufactured in Waltham, Massachusetts. Addyi is manufactured for Sprouts Pharmaceuticals in Bridgewater, New Jersey.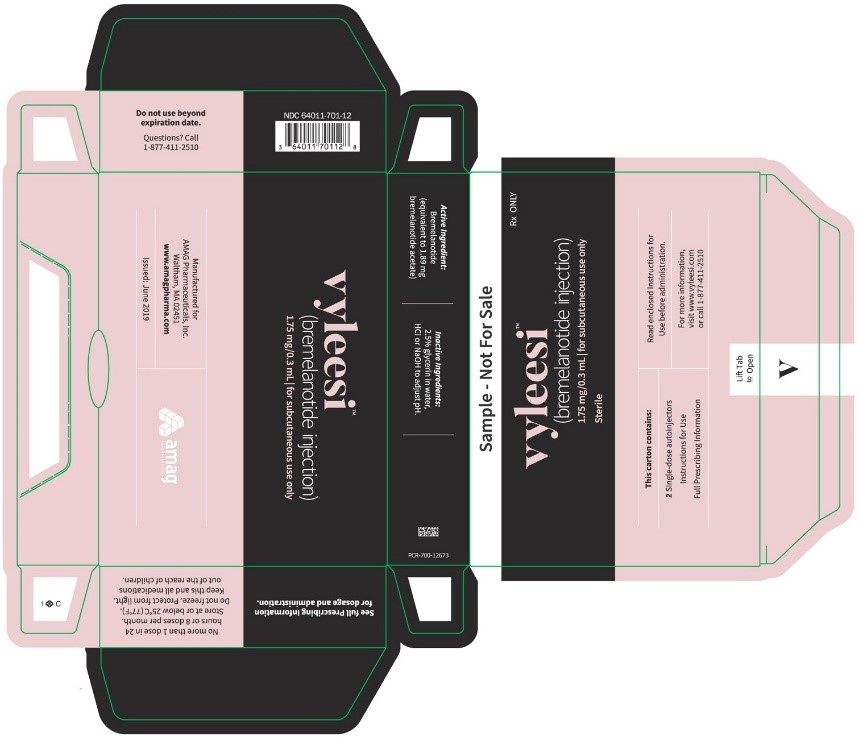 Back to Top
Read more on Ask PharmacyChecker
How does Zulresso (brexanolone) for postpartum depression work?
Why won't the pharmacist fill my prescription?
How can I save money on Domperidone?
Do you have questions or concerns about filling prescriptions, whether locally or online? We're here to help.
Comment below or ask a question by logging in to My PharmacyChecker.
Back to Top
Compare drug prices among reputable online pharmacies