Eliquis (apixaban): Made in America; Cheaper Abroad

Eliquis made in the U.S. is sold outside the U.S. for 87% cheaper. And you can easily order it.
Eliquis (apixaban) is manufactured in America. At least some of it is. I'll explain more below. Since most brand-name drugs sold in the U.S. are not made in the U.S., the fact that Eliquis is made in the USA makes it pretty special. And one would hope that if a drug is made here, it would be cheaper than its cost elsewhere. Not so, especially in America. Sixty tablets of American-made Eliquis 5 mg are available from accredited international online pharmacies at a low cost of about $1 per pill. The cost is $7.85 per pill for Eliquis sold in U.S. pharmacies.
Eliquis (apixaban) Brand Cost: USA vs. International

Drug Strength (Quantity)
U.S. Average Retail Price
PharmacyChecker U.S. Discount Card Price
Canadian Pharmacy Price (with shipping)
International Pharmacy Price (with shipping)
Eliquis 5 mg (60 tablets)
$556.15
$471.21
$140.89
$74.75
In explaining the manufacturing country or location of Eliquis, you should know that the drug is under a partnership between drug companies Bristol-Myers Squib and Pfizer.
The $1/pill Eliquis is a product of Turkey. You can see below two pictures of Pfizer's Eliquis with Turkish on the label, as required by law in Turkey. You can make out that it's made in Puerto Rico, which in case you didn't know is in America! Bristol-Myers Squibb makes it. Looking on the website of our friends at Bristol-Myers Squibb, I was able to find a picture of the manufacturing plant in Humacao, PR (see below). Looks nice.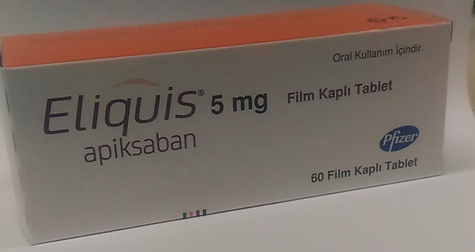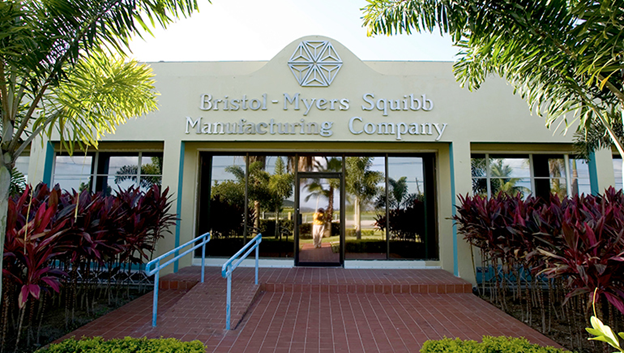 What's most important is that cost doesn't prohibit you from getting Eliquis, if your provider has prescribed it for you. Eliquis is much cheaper outside the U.S. But you need to get it from a trustworthy, credentialed pharmacy and not get burned by a rogue online pharmacy. PharmacyChecker accredits the best international online pharmacies that serve American consumers to help empower you. And, hey, with Eliquis you could be buying American, even if you get it internationally!
Back to Top
Now, where else might Eliquis be made?
We found packaging that indicates the Eliquis sold in the U.S. is a "Product of Ireland" (see below). Go figure!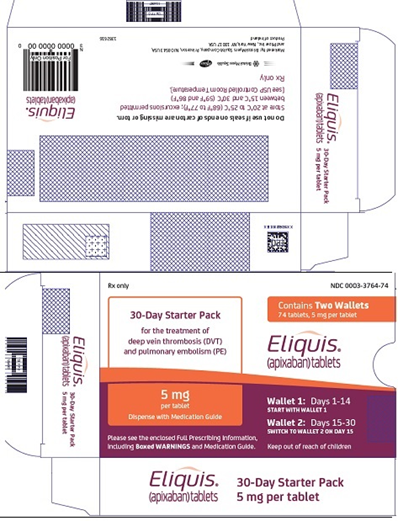 According to one re-packager, some FDA-approved Eliquis are made in Switzerland. Another label says "MFG: by Bristol-Myers Squibb, Princeton, NJ." But according to the company's website, there is no manufacturing plant in Princeton. Drug companies are not always transparent about where their medications are made.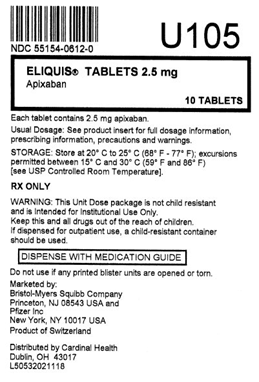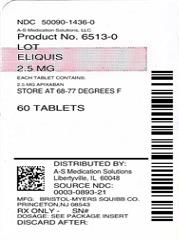 Back to Top
Read more on Ask PharmacyChecker
How do I save money on a 90-day supply of Xarelto? I don't have insurance.
How can Americans save money on Eliquis?
Do Eliquis and Pradaxa work in the same way?
Do you have questions or concerns about ordering your prescription medications online? We're here to help.
Comment below or ask a question by logging in to My PharmacyChecker.
Compare Eliquis Prices
Compare prices among U.S. discount coupons and accredited international online pharmacies
Back to Top
Compare drug prices among reputable online pharmacies