How can I tell an online pharmacy is legitimate and safe?

PharmacyChecker.com's main mission is to identify the safest and most affordable online pharmacies.
A legitimate Canadian or international online pharmacy will always require a valid prescription and your order will be dispensed by a licensed pharmacist.
A rogue online pharmacy will sell medications without requiring a prescription and your order is likely not to be handled by pharmacy professionals. This information about rogue pharmacies will help you more specifically understand why you need to avoid rogue online pharmacies.
Online pharmacies--located in Canada and other countries--verified and monitored by PharmacyChecker publish a genuine seal that will link to a pharmacy profile hosted on our website. It's important to click the seal to make sure it's real! A sample is shown below.
The PharmacyChecker Verification Program
Many patients and their providers trust PharmacyChecker because online pharmacies are always verified for high standards of online pharmacy practice before acceptance into the PharmacyChecker Verification Program. Qualifications and credentials are re-checked on an ongoing basis to ensure your safety when shopping for affordable medication from Canadian online pharmacies and pharmacies located in other countries.
PharmacyChecker was established in 2003 to help consumers find qualified online pharmacies in the U.S., Canada, and other countries. PharmacyChecker is also a valuable resource for finding the lowest drug prices available online.
PharmacyChecker.com is frequently cited and recommended by popular and well-respected media channels including AARP, U.S. News & World Report, The New York Times, National Public Radio, and The Wall Street Journal. PharmacyChecker is recommended by Elisabeth Rosenthal, MD, editor of Kaiser Health News, in her book American Sickness.
There are other online pharmacy verification companies, organizations, and associations: the VIPPS program of the National Association of Board of Pharmacy (NABP), LegitScript.com's online pharmacy verification program, and the Canadian International Pharmacy Association (CIPA). In the case of the NABP and LegitScript programs, some safe international online pharmacies are wrongly viewed as "rogue" or "unapproved," but the programs otherwise appear to validate online pharmacies from which are safe to buy your medications. CIPA's online pharmacy standards are similar to those of the PharmacyChecker Verification Program. Many CIPA member pharmacies (but not all) are also verified in our program. We cannot vouch for those pharmacies that we have not verified and continuously monitor.
The easiest way to only shop at legitimate online pharmacies and save money is to stick to those verified by PharmacyChecker.
Back to Top
How to Compare Prices Among Verified Online Pharmacies
To compare drug prices on PharmacyChecker.com, type in the medication you are looking for in the big search box on our homepage or in the upper, righthand corner. We are using "Januvia" as an example: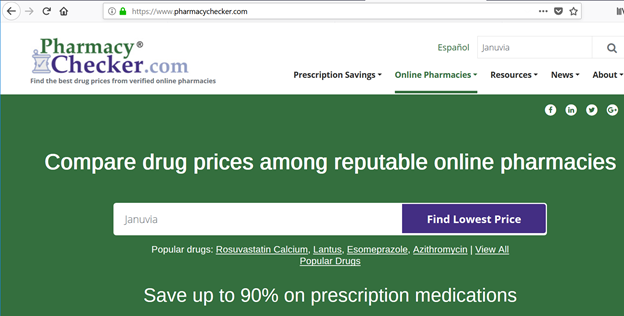 All websites and prices that are listed from your search are from PharmacyChecker-verified online pharmacies. To order your medication, click on the logo of your chosen pharmacy or the purple price button. You will be directed to their website. At that point, you can place your order.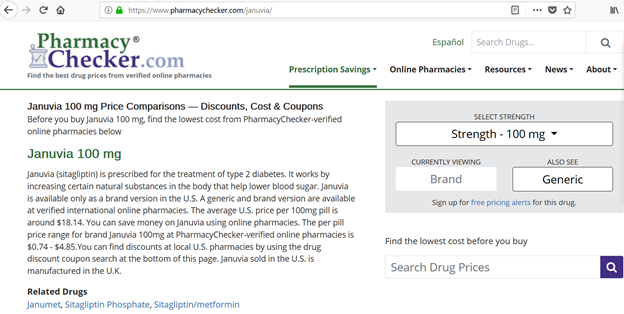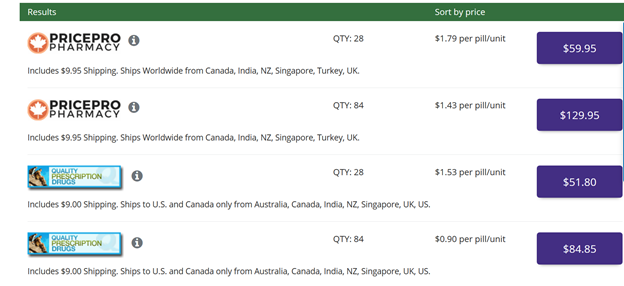 PharmacyChecker.com does not sell or facilitate the sale of medication. Medications are not purchased on our site, and we have no role in the processing of prescription orders. We verify pharmacy credentials and publish information about online pharmacies and drug prices. That information is globally accessible on the Internet.
Find Your Online Pharmacy
Browse our approved list of Canadian online pharmacies that are vetted for patient safety
Back to Top
Compare drug prices among reputable online pharmacies