How much does Livalo (pitavastatin) cost without insurance? Is Alipza the same as Livalo?

Even with insurance, Livalo, an FDA-approved brand of the drug pitavastatin, can cost around $310 for a three-month supply. It's understandable that most folks would balk at such a price. Some would find it impossible to afford. For each case, it's important to know Americans can order Livalo cheaply and safely online if they shop at PharmacyChecker-accredited international online pharmacies. You can compare prices for brand-name Livalo (pitavastatin) on our site and find that it costs only $90 for a three-month supply at the lowest-cost online pharmacy, which saves you 71% off the insured price of $310! The out-of-pocket cost is actually about $1,000.
Something that may give you pause, though: The brand-name pitavastatin, sold in Turkey, is sold under the name Alipza – not Livalo. This is no cause for alarm—the exact same drugs are often marketed under different names in different countries. However, it is understandably confusing and can be frustrating for patients and providers to navigate conflicting public information about buying less expensive medicines online from foreign countries. Couple that with the same medication being marketed under different names, and you may have a recipe for a patient to give up on affordable options – and, in some cases, not take their meds at all.
There are many legitimate reasons to be skeptical. You may think to yourself: Is the drug safe? Is it counterfeit? Is it really the same?
I know there are many doctors, nurses and other prescribing medical professionals who recommend PharmacyChecker. But those medical professionals that are unfamiliar with the good work that we do may fall victim to the same scare tactics as consumers, ones often perpetrated by drug company-funded organizations. In fact, medical professionals are specifically targeted by such groups' education programs. For example, the Alliance for Safe Online Pharmacies, which has received lots of money from drug companies, and the Federation of State Medical Boards teamed up to offer a "continuing education program" for pharmacists and physicians. The supposed aim was to inform clinicians that 1) buying drugs on the Internet can be dangerous; and 2) the only way to stay safe is by sticking to U.S. pharmacies.
It's important that you know that is simply untrue. 1) It is possible to safely buy medication online from other countries; and 2) international pharmacies that are licensed and accredited have been proven to be just as safe as U.S. pharmacies
At PharmacyChecker, we accredit only the safest international online pharmacies. The medicines sold by PharmacyChecker-accredited online pharmacies are lawfully manufactured, safe and effective drugs.
How much does Livalo and Alipza cost without insurance?
The retail price of 90 pills of Livalo without insurance is about $1,000. That would make it over 10 times more expensive than the $90 brand Alipza.
Alipza is the name for branded pitavastatin in many European countries and in Turkey. The drug company responsible for marketing both Livalo and Alipza is called Kowa Pharmaceuticals, a Japanese company.
Compare Livalo Costs in the U.S. vs. Ordering Alipza Internationally

Drug Name
Average U.S. Retail Price
PharmacyChecker U.S. Discount Card Price
Lowest Accredited International Pharmacy Price
Greatest PharmacyChecker Savings
Livalo 2mg 30 tablets
$359.78
$327.50
$40.00
89%
Prices collected January 2020 for quantity of 30 tablets in the 10605 ZIP Code | Average U.S. Retail Price from GoodRX
Back to Top
Great prices, but are Livalo and Alipza the "exact same" drug?
That word "same" is hard to answer when it comes to prescription drugs. For example, when I'm asked if an FDA-approved generic is the exact same as the FDA-approved brand, my answer is often "no." That response is related to well-made generic drugs – not those discovered as inferior due to fraud or poor manufacturing, which is a serious problem. The generic may very well work the same way as the brand, but it almost always looks different, comes in different packaging, and, while the active pharmaceutical ingredient is the same, inactive ingredients are usually different. And that's in the same country.
Approved drugs with the same active pharmaceutical ingredients but sold in different countries are often not the exact same. Sometimes they are. Sometimes they are not. This includes brand-name drugs created by the same pharmaceutical company. The exact same FDA-approved drugs are sold in America and other countries, but with different labels. In many other cases, there are foreign versions of FDA-approved drugs sold by the same drug companies.
So, are these the "same" drug?
I believe the answer is a resounding yes: Livalo and Alipza are the exact same.
1. They have the exact same active ingredient, pitavastatin – and appear to have the exact same inactive ingredients.
2. They were both approved by the world's top regulatory authorities for safety and efficacy: Livalo by the U.S. FDA and Alipza by the United Kingdom Medical and Health Product Regulatory Authority.
Interestingly, MHRA approved the marketing of Kowa's pitavastatin under both Livalo and Alipza in the application's approval.
Back to Top
The Only Difference Between Livalo and Alipza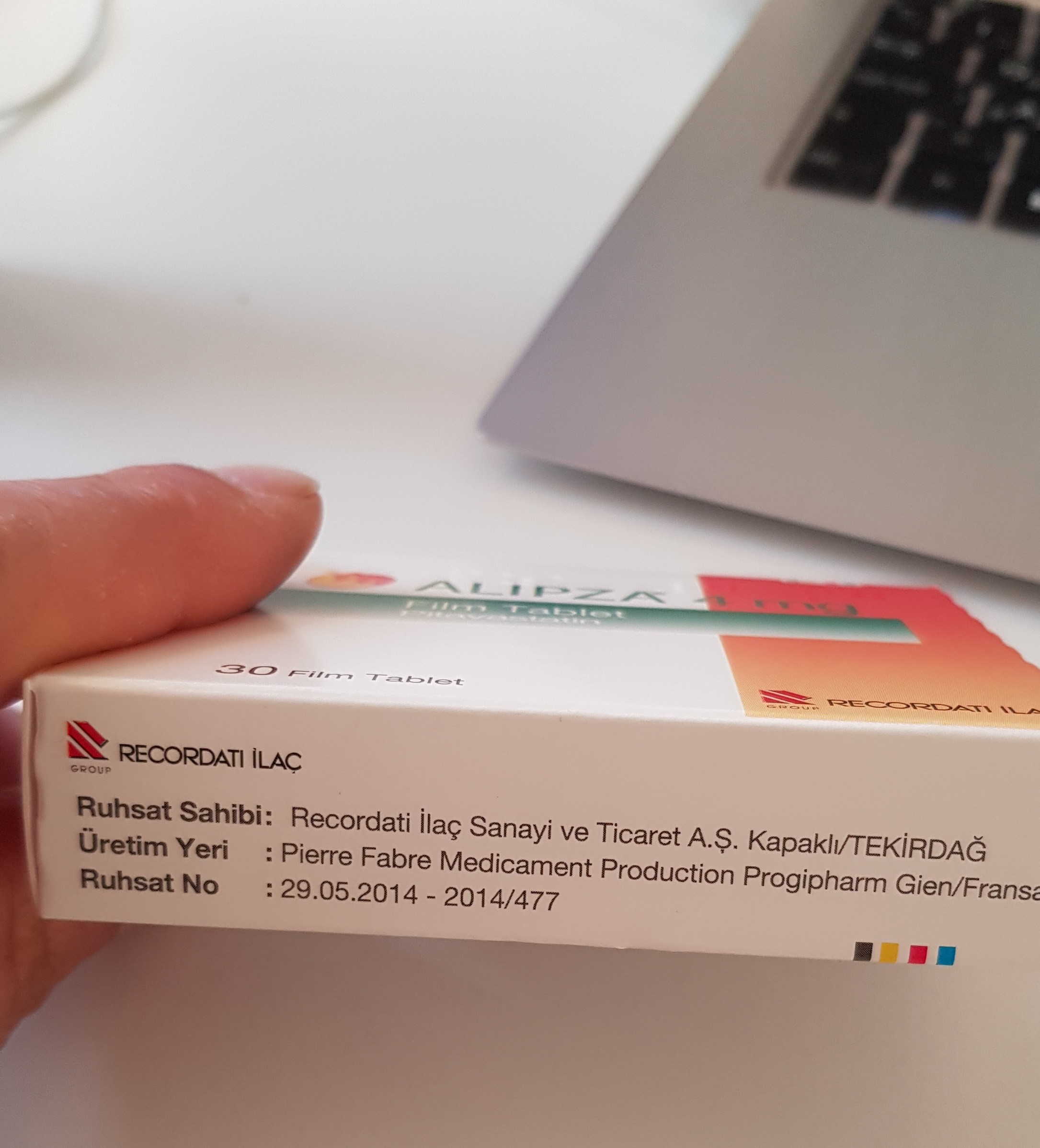 Livalo, sold in the U.S., is made in Japan or Ohio. The Alipza is licensed to Italian drug company Recordati and manufactured in France by Pierre Fabre Médicament Production. Should that cause concern? No. France, according to the FDA, is recognized as having similarly strict pharmaceutical regulations to the U.S., per a mutual recognition agreement (MRA) signed in 2017. Not that this MRA is necessary for us to have confidence in France's regulatory capabilities. The FDA's counterpart, called The French National Agency for Medicines and Health Products Safety, was known to properly regulate drug manufacturing before the MRA. The MRA is proof that the FDA's position is that drugs manufactured in France can meet U.S. requirements.
Let's explore further, though.
The French drug manufacturing company itself is registered directly with the U.S. FDA: PIERRE FABRE MEDICAMENT PRODUCTION. This is the company that makes the Alipza, which has the exact same active ingredient and inactive ingredients as Livalo. The Alipza sold in Turkey is manufactured by that same FDA-registered company – Pierre Fabre Medicament Production – under license Recordati Ilac Sanayi ve Ticaret A.S.
It is the same Alipza that you may be prescribed by your doctor in the U.S. Again, it's available for $90 for a three-month supply, over 90% less than Livalo's price for uninsured Americans, 70% less for insured Americans.
Back to Top
Learn more about your health and affording medication locally and online
Can I test cholesterol levels at home?
Why can't I eat grapefruit while taking certain drugs?
What food and drinks should I avoid if I have hypertension?
Do you have questions or concerns about prescription drug savings, whether locally or online? We're here to help.
Comment below or ask a question by logging in to My PharmacyChecker.
Back to Top
Compare drug prices among reputable online pharmacies