How can I save money on Metformin? I don't have great insurance.

Metformin, an oral medication used to treat type 2 diabetes, is, all things considered, a relatively inexpensive drug. But for people with type 2 diabetes, metformin is a life-saving drug. If you don't have great prescription drug coverage in your insurance plan, the cost of the drug can weigh on your finances.
Metformin is the generic version of the drug Glucophage, which is many times more expensive than metformin. So, if you are looking to save money, an easy tip: Do not opt for the brand-name version of the drug. Talk to your doc about making the switch. Generic medications have the same active ingredients as their brand counterparts and are a great way to cut costs.
Metformin is Cheaper in the U.S. Than Canada
Because the generic version of the drug faces incredible competition in the U.S.—meaning many companies compete to sell it here—it's actually cheaper to buy it here than Canada or just about anywhere, including Indian online pharmacies.
When it comes to Canada, brand-name drugs are usually much cheaper than in the U.S., due to government regulations – ones that don't apply to generic drugs! In addition, there are many discount card and coupon opportunities you can use to pay the lowest drug prices on generic metformin in the U.S.
Nonetheless, you may make the mistake of buying metformin from a Canadian online pharmacy, thinking you are getting a better price. For example, one chain pharmacy in Brooklyn, NY sells 90 pills at an estimated retail price of $62. One Canadian pharmacy approved by PharmacyChecker.com charges only $38 with shipping for 100 pills. But, right now, you can obtain 200 pills of metformin from a local U.S. pharmacy using the U.S. Prescription Discount Card for 11 bucks.
Back to Top
How much would metformin cost with the U.S. Prescription Discount Card?
Not everyone will buy 200 pills so let's explore other metformin savings in the U.S. The average cash price for metformin is $27.05 for sixty 500mg tablets. This is way above the "fair price" – an estimate of how much a consumer should be paying for the drug, provided by the website GoodRx – and no one should ever actually have to pay $27.05 for 60 tablets of metformin. The "fair price" for metformin is supposedly $7.56 per 60 tablets. Luckily, there are many money-saving options for this medication.
A 30-tablet bottle of metformin can cost as low as $7.23 with the U.S. Prescription Discount Card; and 60 tablets, with the discount card, can cost as low as $8.12 at the same pharmacy. If you purchase in bulk, as noted above, the prices goes even lower: A bottle of 400 tablets is as cheap as $18.54 with the U.S. Prescription Discount Card. This is the cheapest way to obtain metformin, full stop.
Keep in mind that, when purchasing drugs, it is best to try to find a local U.S. pharmacy before resorting to a Canadian or other international pharmacy, especially when there are available generics in the U.S. for your prescribed medication. If the discount card for cheaper generics is not an option, there are international pharmacy options that will be much cheaper on brand named drugs. Make sure to use PharmacyChecker's Verification Portal to ensure you're purchasing from an accredited Canadian online pharmacy or other international online pharmacies.
View the chart below to see how metformin is priced differently in different places.
Metformin Cost Comparisons: U.S. vs. International
Drug Strength (quantity)
U.S. Average Retail Price
Lowest International Pharmacy Price (with shipping)
Pharmacy Checker Discount Card Price at U.S. Pharmacy
Metformin hydrochloride 500mg (60 tablets)
$15.00
$27.35
$14
Glucophage 500mg (60 tablets)
$69.34
$30.51
$10.76
Prices collected October 2019
Back to Top
Does metformin operate as a stand-in for insulin?
Absolutely not. Metformin treats type 2 diabetes, which is non-insulin-dependent. According to the Mayo Clinic, type 2 diabetes is a chronic condition that changes the way your body uses insulin. In many cases, the body becomes insulin resistant, which means insulin no longer works to regulate your body's blood sugar. In other cases, your body simply ceases production of insulin. Type 2 diabetes was once referred to as "adult-onset diabetes" because it was more frequently diagnosed in adulthood. Today, the age of diagnosis varies.
Metformin lowers blood sugar levels overall by making the body more susceptible to insulin and preventing the liver from overproducing glucose. Metformin is usually the first medication prescribed for type 2 diabetes after the initial diagnosis. In general, insulin is only prescribed months after the initial diagnosis.
Type 2 diabetes is one of the most prevalent chronic conditions in the U.S. According to the CDC, one in 10 Americans have diabetes, and 90% to 95% of those have type 2.
Type 2 diabetes can be managed in many ways; insulin is not the only way to treat the condition. In fact, type 2 diabetes (not type 1) can be treated with lifestyle changes, like staying active and making slight changes to the diet. Metformin is considered an aid in type 2 diabetes, not a cure-all, and not a replacement for any lifestyle changes. Because type 2 diabetes is so prevalent, though, metformin is one of the top 10 most prescribed drugs in the U.S.
Back to Top
Where is metformin manufactured?
We found packaging of Metformin sold in the U.S. that indicates it is manufactured in India.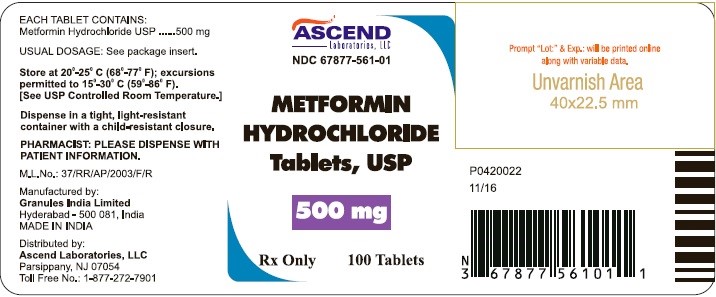 Back to Top
Read more on Ask PharmacyChecker
How can Americans cut costs on diabetes medication?
Why are drug prices so different at different pharmacies?
How can I safely order medication from an online pharmacy?
Do you have questions or concerns about filling prescriptions, whether locally or online? We're here to help.
Comment below or ask a question by logging in to My PharmacyChecker.
Back to Top
Compare drug prices among reputable online pharmacies