How can I save money on Aptiom (eslicarbazepine)?

With an average U.S. retail price around $1,200 for 30 tablets at 800mg, Aptiom is one of the more expensive anti-epileptics. Aptiom also has no generic alternative available locally. So, if you have no insurance, depending on your financial resources, it may be difficult or impossible to acquire. Aptiom is far cheaper if ordered from abroad. Aptiom 400mg sells for as low as $11.19 per tablet at accredited international online pharmacies, a far cry from the roughly $40 you would pay per tablet at a U.S. pharmacy. Additionally, a generic version of Aptiom, eslicarbazepine, is available to order internationally from an accredited online pharmacy for just $3.00 per 400mg tablet. Consumers can potentially save up to 87% by shopping for eslicarbazepine at accredited international pharmacies.
Aptiom (eslicarbazepine) Price Comparisons

Drug Strength (Quantity)
Average Retail Price
PharmacyChecker U.S. Discount Card Price
Lowest International Pharmacy Price (shipping included)
Greatest PharmacyChecker Savings
Aptiom 800mg (30 tablets)
$1,175.68
$999.75
$288.98*
75%
Aptiom 400 mg (30 tablets)
$1,179.28
$1001.58
$353.95
70%
Aptiom 200 mg (30 tablets)
$1,162.02
$1001.58
$374.95
68%
Eslicarbazepine 800 mg (30 tablets)
Generic Aptiom is not currently available in the U.S.
Generic Aptiom is not currently available in the U.S.
$149.99
87%**
PharmacyChecker discount prices based on availability at pharmacies near New Orleans, Louisiana.
*Price reflects that of brand-name Zebinix (known in the US as Aptiom)
**Percentage savings based on U.S. average retail price of brand name Aptiom 800mg.
Back to Top
What is Aptiom?
Aptiom (eslicarbazepine), is an anticonvulsant which works to prevent partial-onset seizures (POS), also known as focal seizures. It is used to treat epilepsy. Aptiom is known to have some serious side effects, including suicidal ideation and liver problems. More common side effects include nausea and dizziness. The FDA has also approved it for treatment of children ages 4 - 17.
Back to Top
What is the difference between Zebinix and Aptiom?
Aptiom and Zebinix are actually the same medication under two different brand names. They both contain the active ingredient, eslicarbazepine. Zebenix is simply the version that is authorized to be marketed in Europe. Zebinix is manufactured by BIAL - Portela & Ca , S.A., which also holds the license for Aptiom, which is sold in North America. In the U.S., eslicarbazepine is marketed as Aptiom by Sunovion Pharmaceuticals, Inc. Confusing as this is, it happens with some frequency. The same drugs are marketed under different names in different countries. Read more about another instance of this for a different medication here: https://www.pharmacychecker.com/askpc/livalo-alipza-without-insurance-cost/
Back to Top
What triggers seizures?
Seizures tend to be specific to the patient, although there are certain atmospheric triggers like low atmospheric pressure and high air humidity which can bring about a seizure if brought to a threshold. Alcohol withdrawal, in the case of addiction, can cause seizures. Things like flickering light, dehydration, and stress may also cause seizures, especially in those diagnosed with epilepsy. There are no foods that appear to cause seizures, although the ketogenic diet was conceived as a way to combat epilepsy.
Read our answer: What is the best medicine for seizures?
Back to Top
What are some alternatives to Aptiom?
As far as anticonvulsants go, Aptiom is one of the newer drugs to hit the market. The United Kingdom approved the drug in 2009, and the U.S. approved it in 2013. (This is at least partly the reason why the drug is so expensive.) Compared to other drugs in its class, Aptiom is a premium drug. Historically, anticonvulsants have been necessary treatments that come with dire side effects. They tend to be mild sedatives that can be addictive; which explains why many anti-epilepsy medications are controlled substances.
The first medication recognized by medical science to treat epilepsy is phenobarbital, which was introduced in 1912. Long-term use of phenobarbital (called Luminal as a brand name drug) can lead to dementia and sedation; not to mention, the drug is a barbiturate, a class of drugs known to be addictive. On the other hand, phenobarbital is very cheap. It has an average retail price of $45.25.
Since 1912, newer anticonvulsants have proven more effective but most do carry adverse side effects. (As always, consult your doctor if you notice these effects making a dent in your life.) The trade-off, then, is price. Aptiom has very few adverse side effects and, unlike many anticonvulsant drugs, it is not addictive.
To this day, finding a perfect AED is a difficult task. Only four years ago, a new anticonvulsant called Trobalt (generic name retigabine) was discontinued after it proved to have side effects deemed too unsafe for use.
Other, more recent anti-epileptic medications include vigabatrin (Sabril), lacosamide (Vimpat), gabapentin (Neurotonin) and perampanel (Fycompa). All four treat partial-onset seizures, although they have different interactions with the body. If you are considering switching your medication, speak to your primary care provider first.
Back to Top
Is there a generic Aptiom?
Because the drug is so new, the U.S. market does not sell generic Aptiom, although it is available overseas. Currently, there are seven U.S. patents on the drug, and patents generally expire 20 years after they are filed. The original patent was filed in 2013, so a generic may not be available until the mid 2020s. Generic Aptiom, eslicarbazepine, is available through PharmacyChecker accredited international online pharmacies. This is a great option if you need this medication and can't afford your local pharmacy prices.
Back to Top
Where is Aptiom manufactured?
Aptiom sold in the U.S. is made in Canada.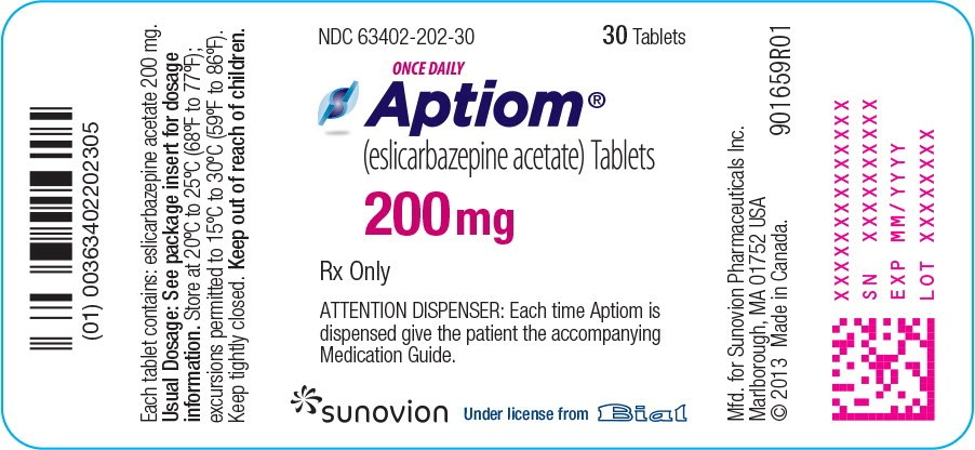 Back to Top
Learn more about your health and ways to afford your prescriptions
How can patients cut costs on Actos (pioglitazone)? Where is the cheapest place to purchase Actos?
Which treatment is best for rheumatoid arthritis? How can I cut arthritis medication costs?
How can patients reduce prescription drug costs at the pharmacy counter?
Do you have questions or concerns about prescription medication savings, whether locally or online? We're here to help.
Comment below or ask a question by logging in to My PharmacyChecker.
Compare Aptiom Prices Now
Compare prices among U.S. discount coupons and accredited international online pharmacies
Back to Top
Compare drug prices among reputable online pharmacies